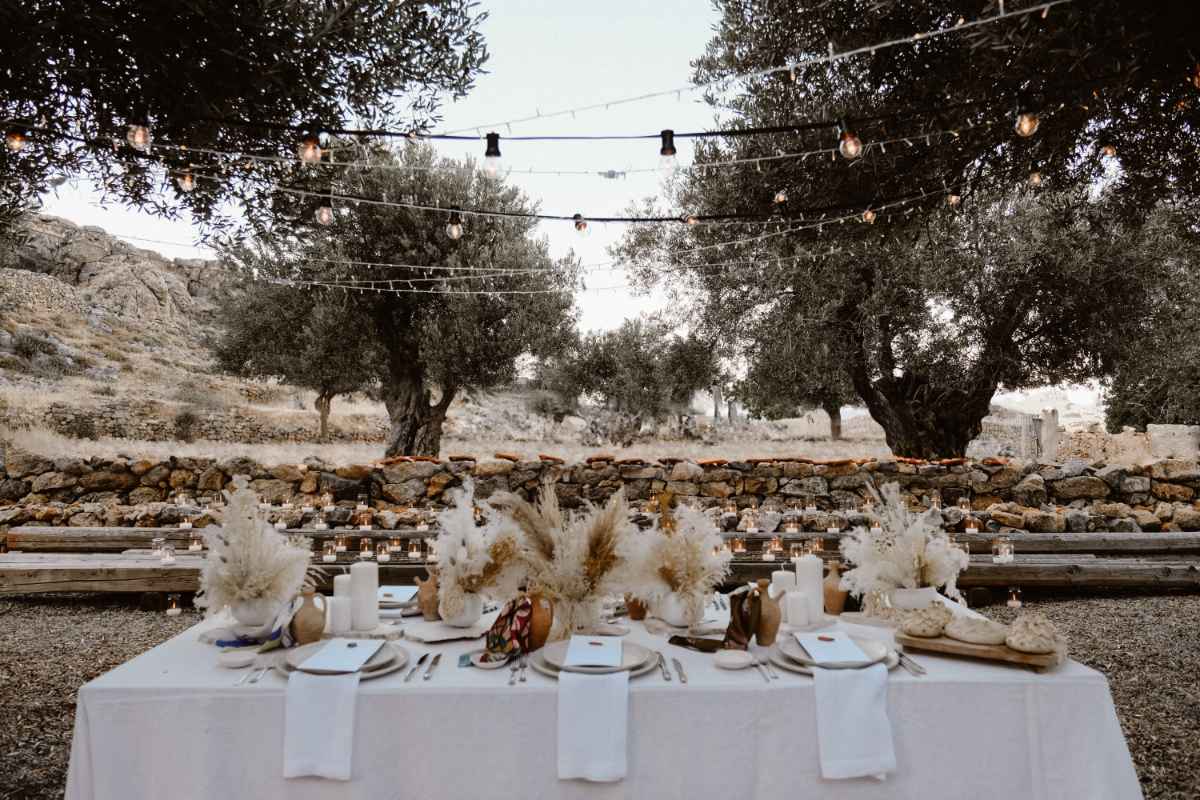 In Eventions, we love tonal events, and what better way to encapsulate summer in the Mediterranean other than a sophisticated palette of summer neutrals for a Monochromatic Wedding? 
The colors you choose for your wedding day are quite important, they will set the mood and help you create an amazing atmosphere for one of the most unforgettable events of your life.  But what if you don't want to combine too many colors? Can you pull off a monochromatic wedding color scheme without it feeling too flat? While some couples love several bright colors that pop and a vibrant wedding color palette with lots of variety, others are yearning for a more simplistic color scheme.  Monochromatic wedding details are oh-so-chic. Shades, tones and tints are the words you need to remember to make your monochromatic wedding color scheme work! A monochromatic wedding is a special, unexpected choice and is still on-trend. There are a lot of color schemes that have way too much going on. With the right mindset, you can create a monochromatic wedding color scheme that will celebrate your love story without stealing the show.
But shall we talk about our shoot? 
Tonal Monochromatic Destination Wedding Inspiration in Greece
Our concept is unique for a destination wedding in Greece, different from the concepts we've seen before. To bring a contemporary feel to the styling we used a base color first. Then we chose shades and tints that make that base color darker and lighter. We opted for multiple shades in one color family, pairing up, brown, beige, and cream with pale greys to create a more dynamic palette. The secret? We played with texture. Picking one or two shades of a certain hue and incorporating that into all aspects of the wedding day is a contemporary way to tie together the ceremony and reception decor.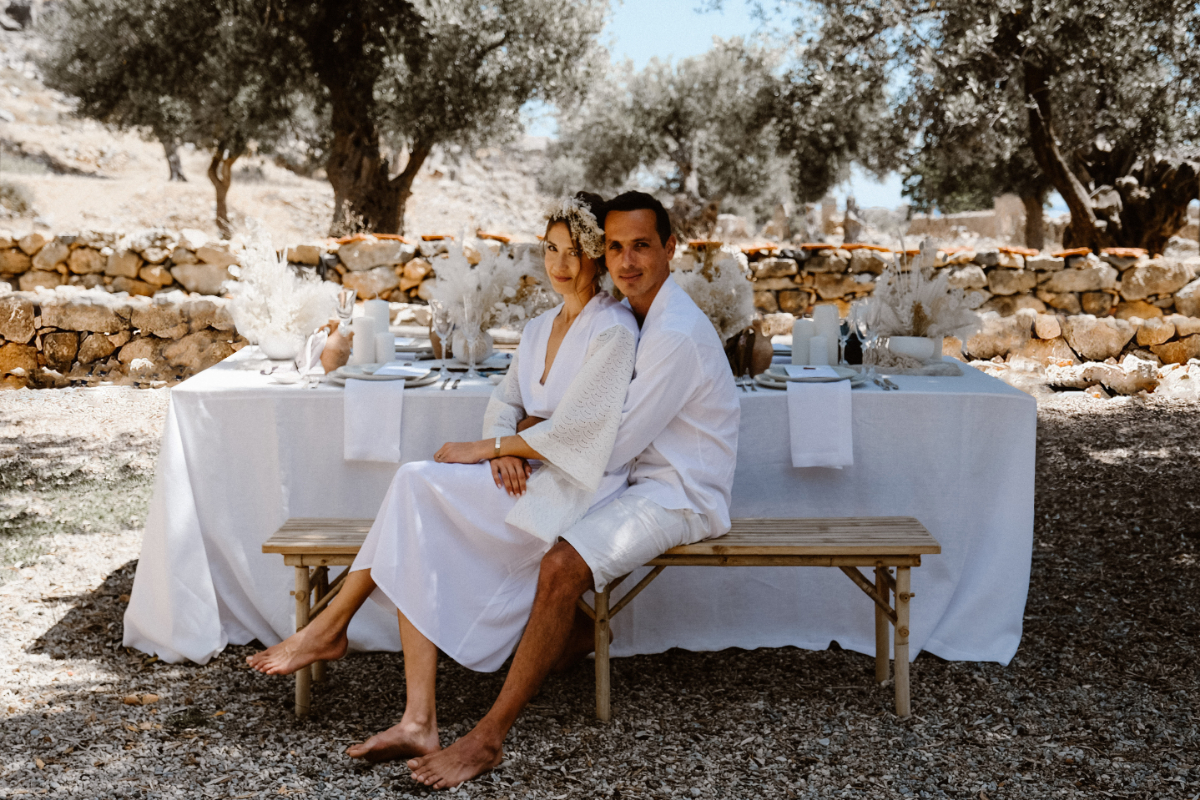 Tip for all the brides to be? By using a monochromatic wedding color scheme, you're simplifying your color scheme, which makes it much easier to plan everything from bridesmaid dresses to napkins and tablecloths!
Casita Casita in Lindos Rhodes was the perfect place to create our monochromatic concept. The venue is a small block of houses "with an extraordinary big heart", converted into a modern suite collective, all about experiencing the beauty of Lindos, while not being separated from the natural elements surrounding it, featuring a stunning view of the medieval fortress and the sea. Also, an open outdoor kitchen perfect for a private dining experience is ideal for an intimate wedding celebration or elopement. As the location features a unique blend of minimalism and Mediterranean elements, its olive garden was ideal for us!


Pretty and Monochromatic  
The overall styling of the day was curated around natural materials, simple shapes, and clean-cut lines. We decorated the table with dried flowers, Lunaria, indigenous grass of the area, and pampas, creating a tonal summer palette rich in texture – boho wedding friendly, adding olive leaves to tie the table setting to the surroundings. Modernizing the olive elements is something we thoroughly enjoy in our events as a way to blend contemporary bits and classic Mediterranean details. We focused on pottery pieces throughout the styling and simple cutlery and plates in matching neutral shades. We added texture with salt grains and stone pieces, keeping everything balanced and refined with crystal glasses.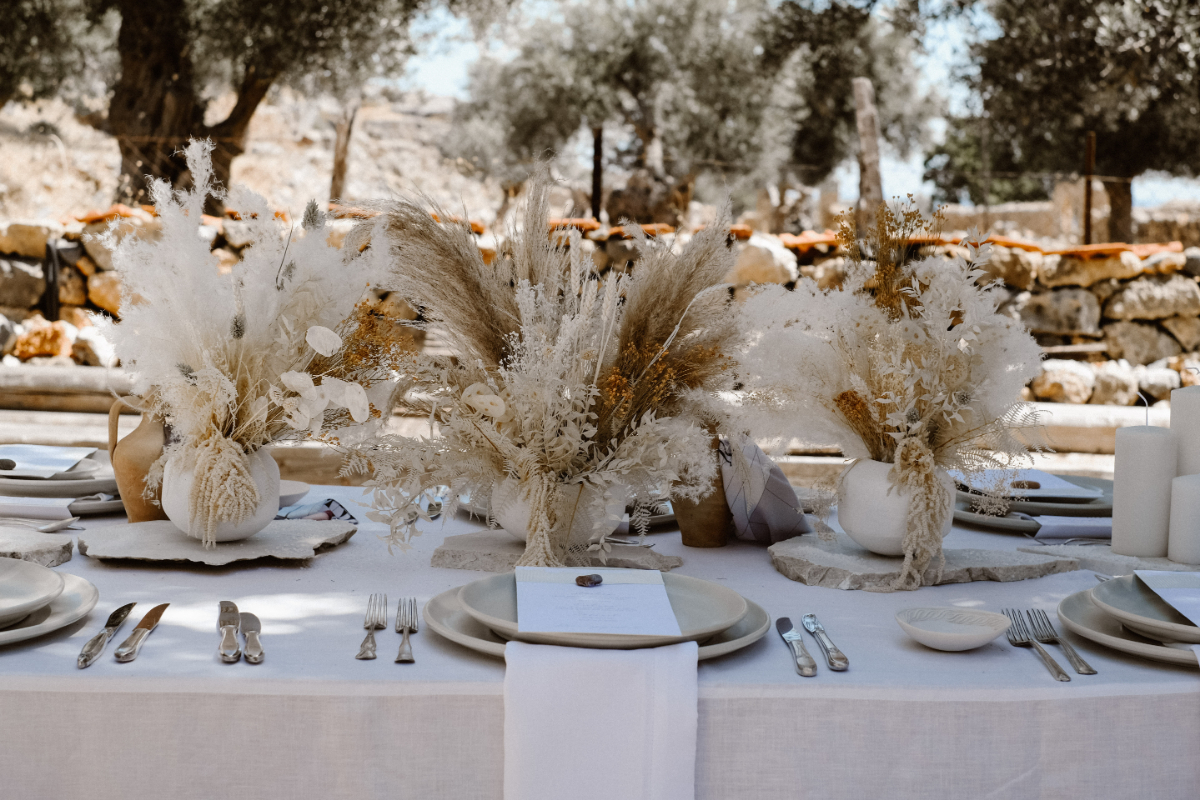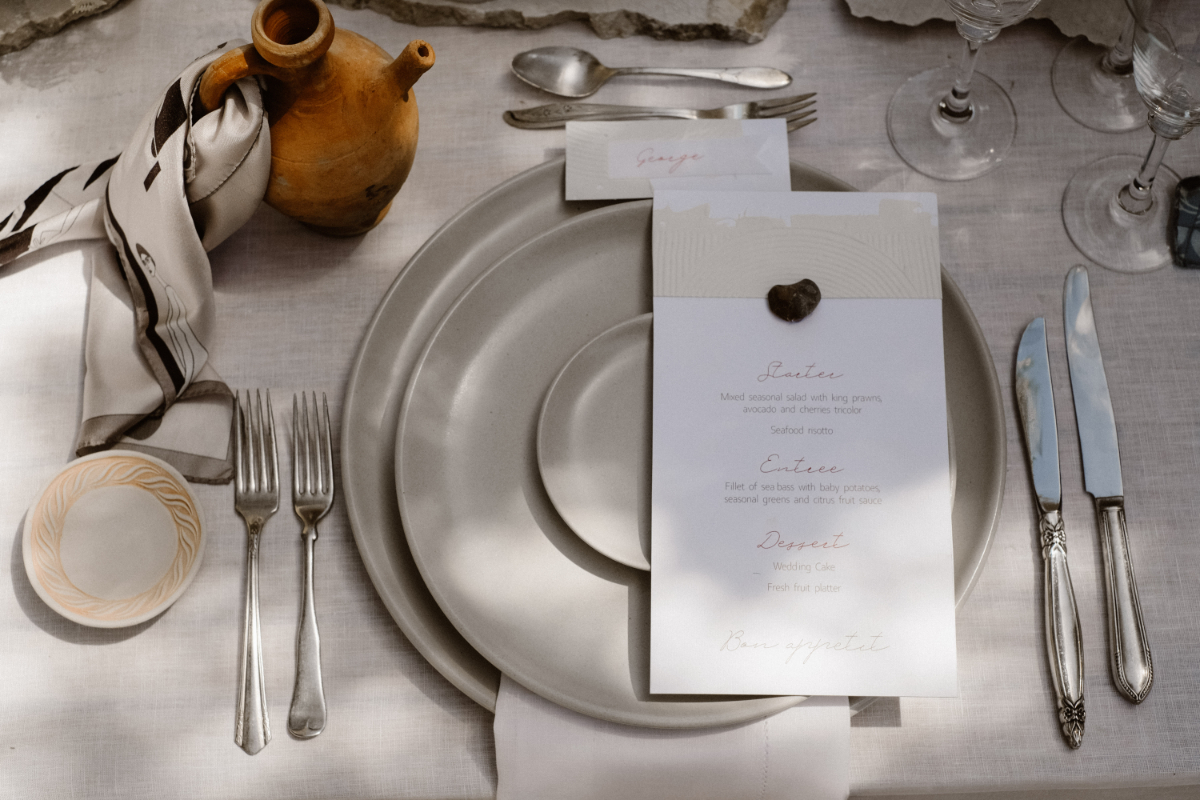 The wedding favors were small pottery Amphorae decorated with custom made silk scarves produced in Northern Greece by Aenaon Design – the perfect way to bring color and give guests something to take home. We used varying shades and motives but we could easily imagine personalized scarves for each couple making this the perfect wedding memento. Also, sourcing and incorporating small interdependent artisans to our events is very important to us, as a way to support local businesses that work with ethical and organic materials. For that reason, apart from hand-dyed silk scarves, we used traditional wefts and handwoven textiles as creative backdrops for our shoot (and we can't help but swoon seeing how well they worked with the surroundings!). The fairytale factor of the day was the fairy lights on the olive trees and the dozens of candles shimmering in the twilight!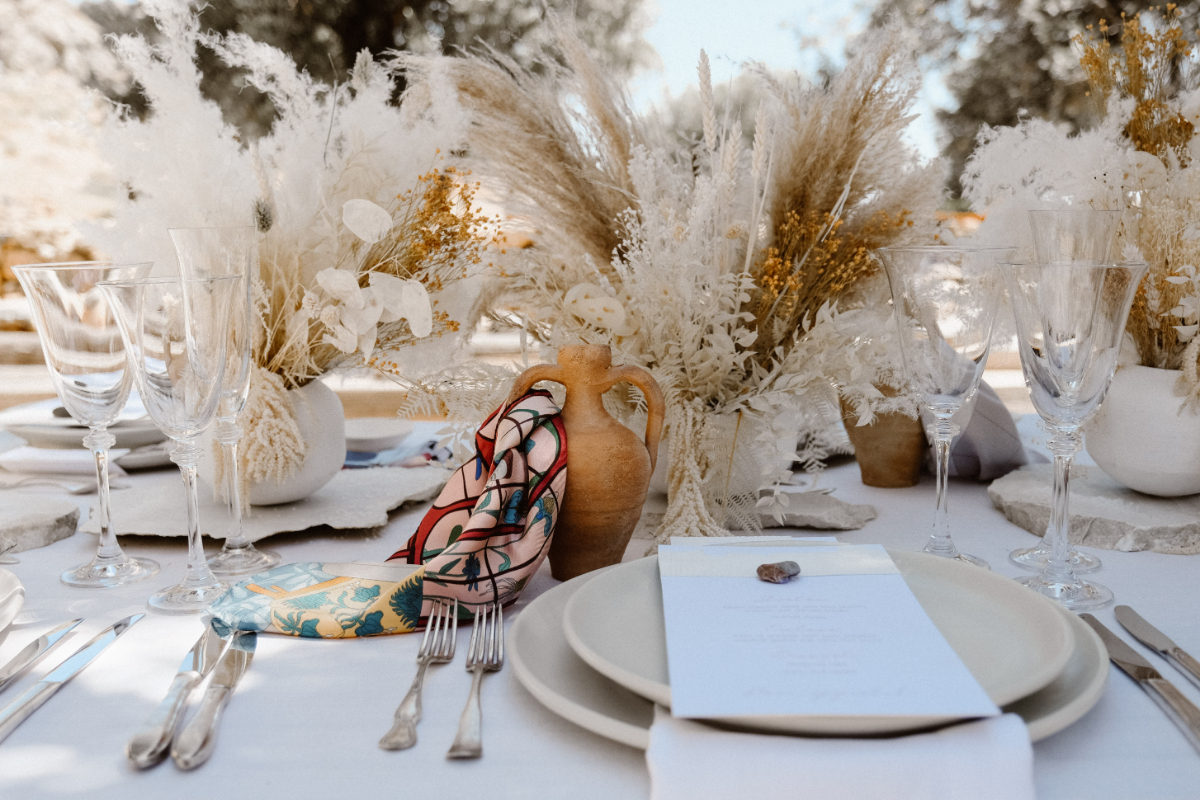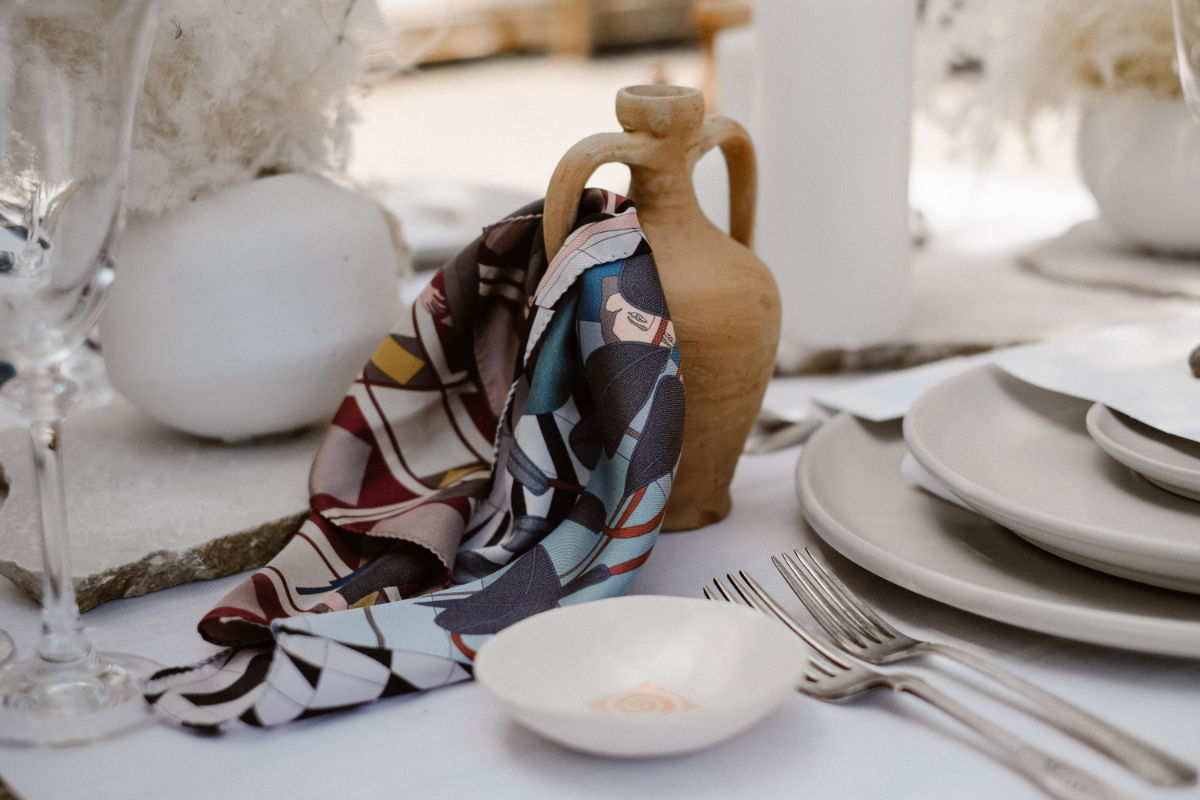 Cool in Linen
Summers in Greece tend to be overly warm, making wedding day attire challenging. However, natural materials like linen, silk, and organic cotton are our fabrics of choice when advising our brides for what to wear. In a setting like this, a natural caftan style wedding dress and linen garments completed the laid back style. Of course, we used dried broom blooms and phalaris grass to create a romantic yet minimal flower crown as the epitome of boho chic.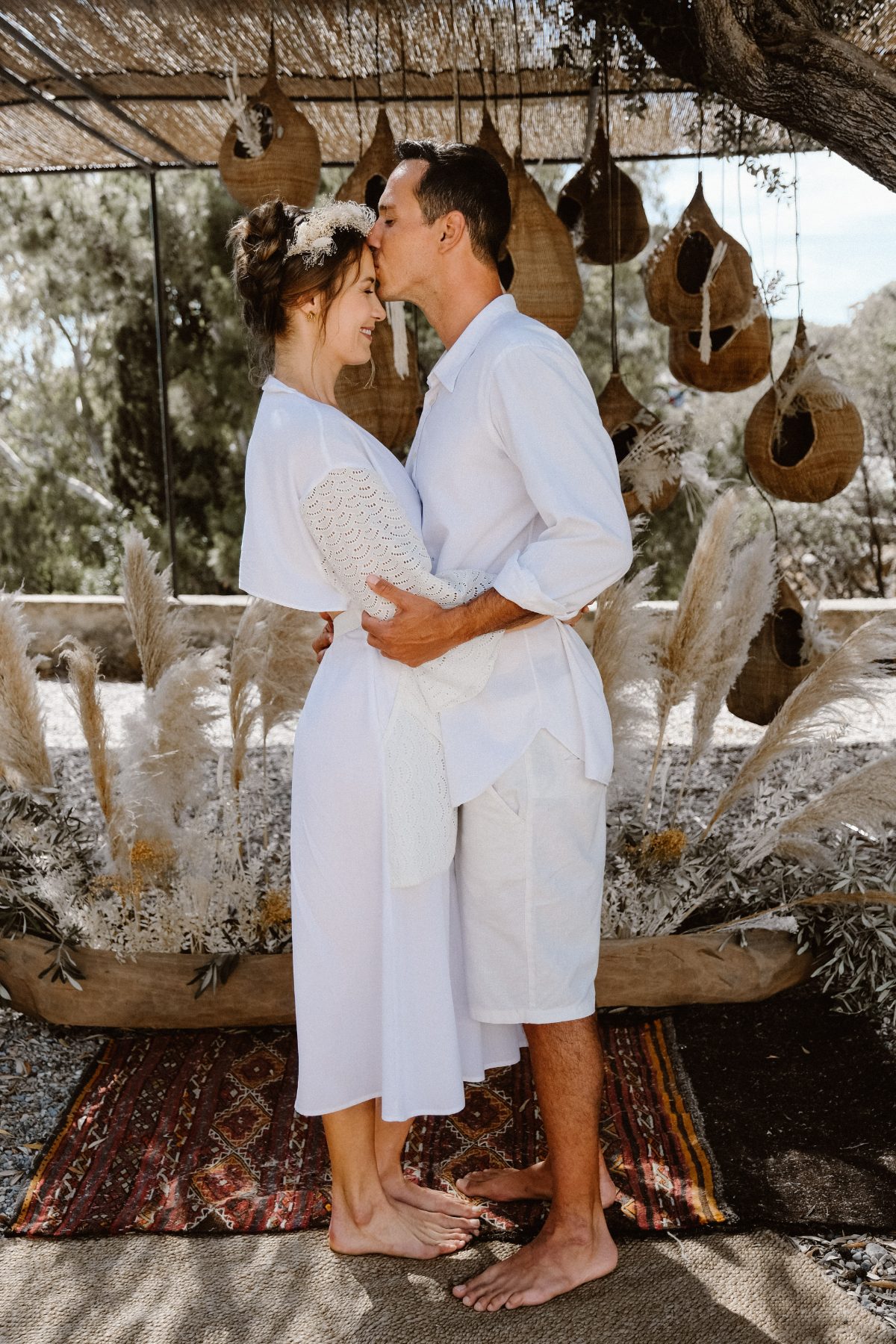 A little fun fact is that the couple we used for our shoot is getting married next year and we used the shoot as the inspiration to their wedding day in the summer of 2021, focused around an organic experience and a laid back approach to a wedding day. To highlight that lowkey modern bohemian feel to the event, we opted for a bar van serving cold cocktails with reggae and Caribbean tunes.

It's all Greek to us
We're always sourcing locally for materials, designers, and elements because let's face it, blending culture, heritage, and concepts with the surroundings is the ultimate way of achieving cohesive aesthetics! The beautiful wedding dress we used for the shoot was organically and ethically made by Hallelujah a local designer whose creations we adore! Also, the candles by Kerino were naturally handcrafted in Greece with the extract of Mediterranean herbs – needless to say, they made the atmosphere smell divine! Have you noticed how unique the stationery was? It's because Be My Guest handmakes all her projects with love, using natural whitewash dyes made in Greece. Her creations are always modern and oh so unique! Working with creatives we trust and admire for their stellar services is always number one for us. We believe in the community of greek designers so much! And of course, nothing would have been possible without our dear friend – and amazing storyteller – Magdalene Kourti whose photography always travels our minds to happiness! Do check out her amazing work and her greek loving way of photography!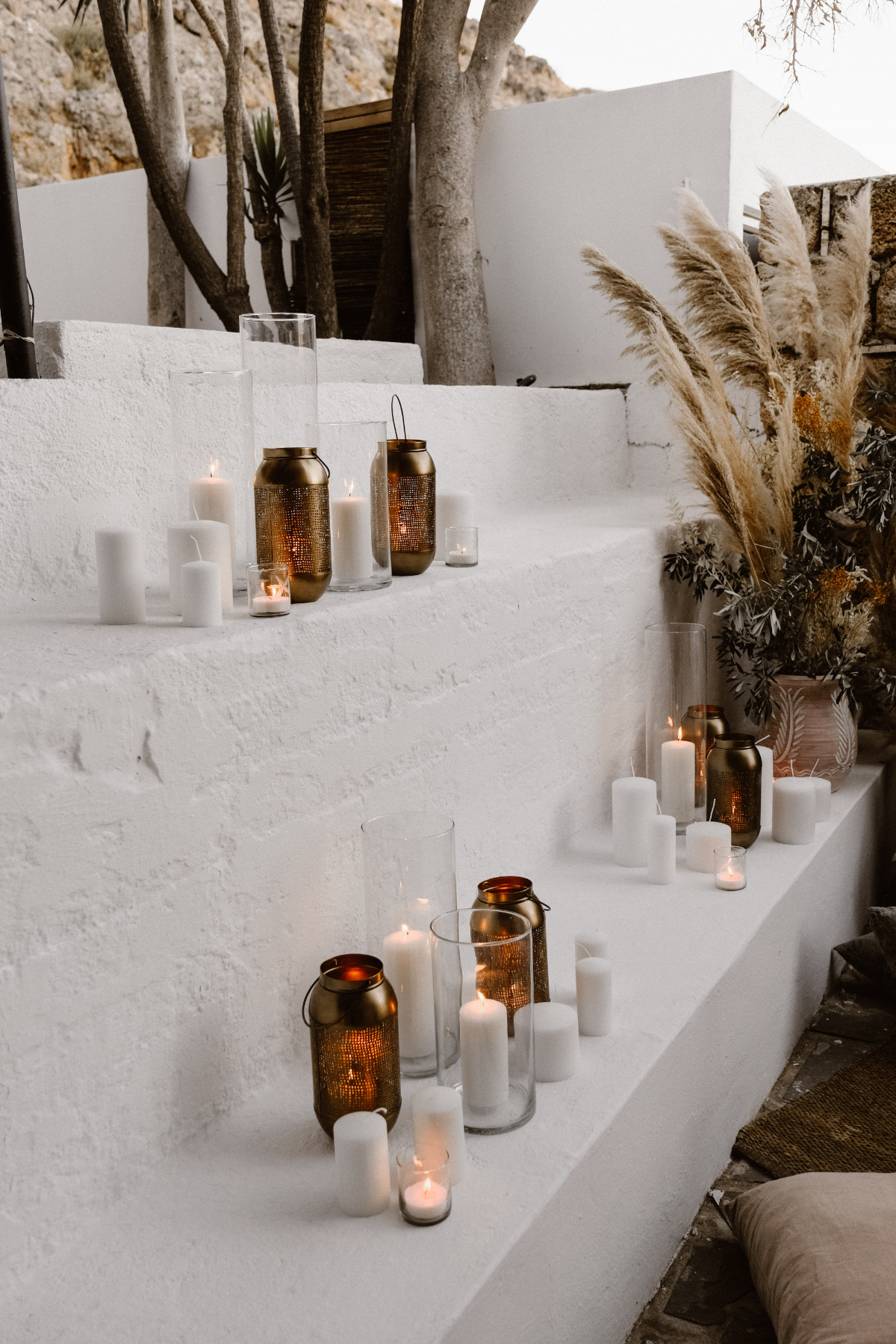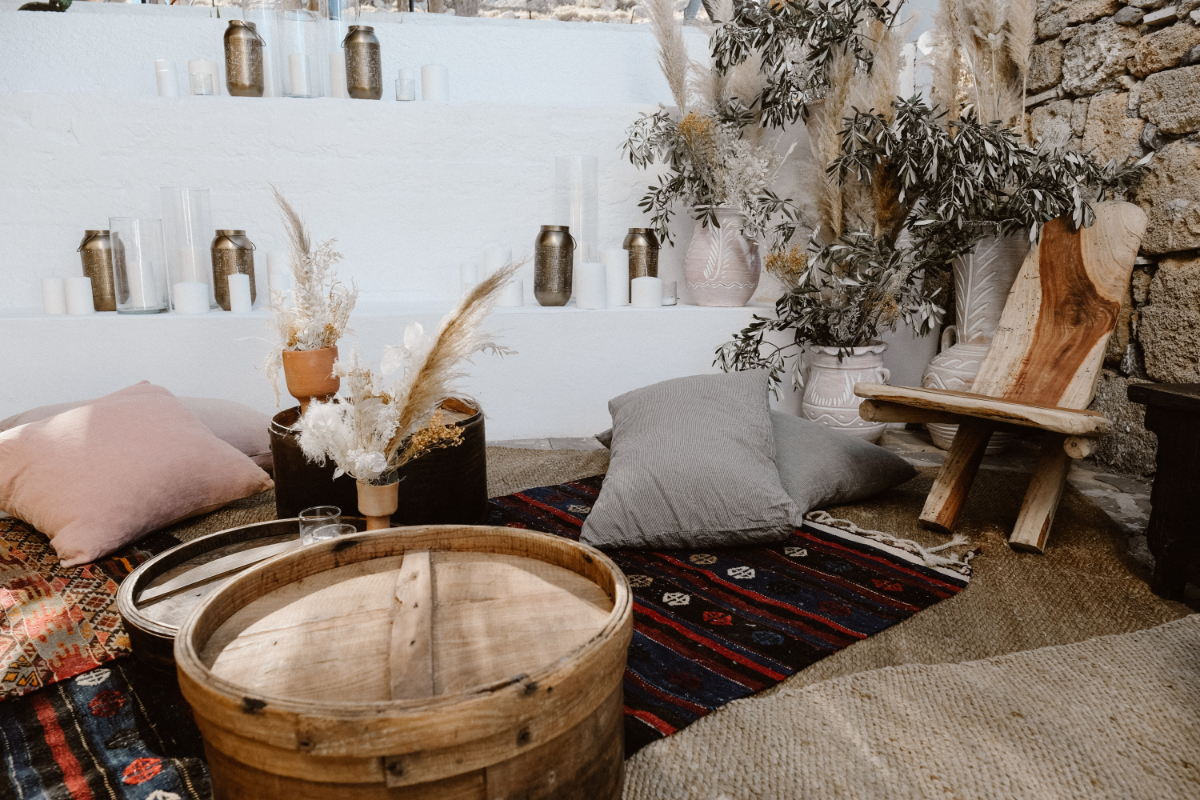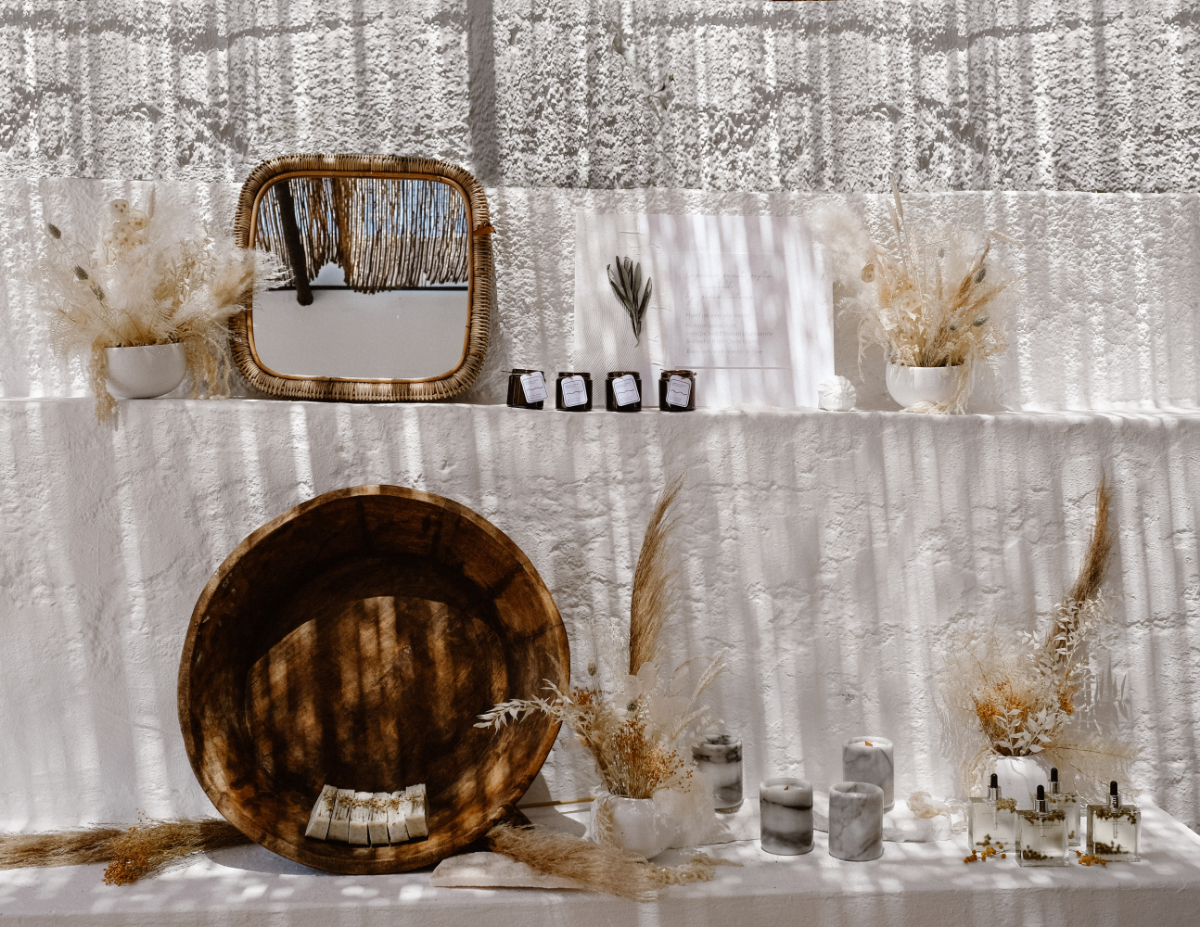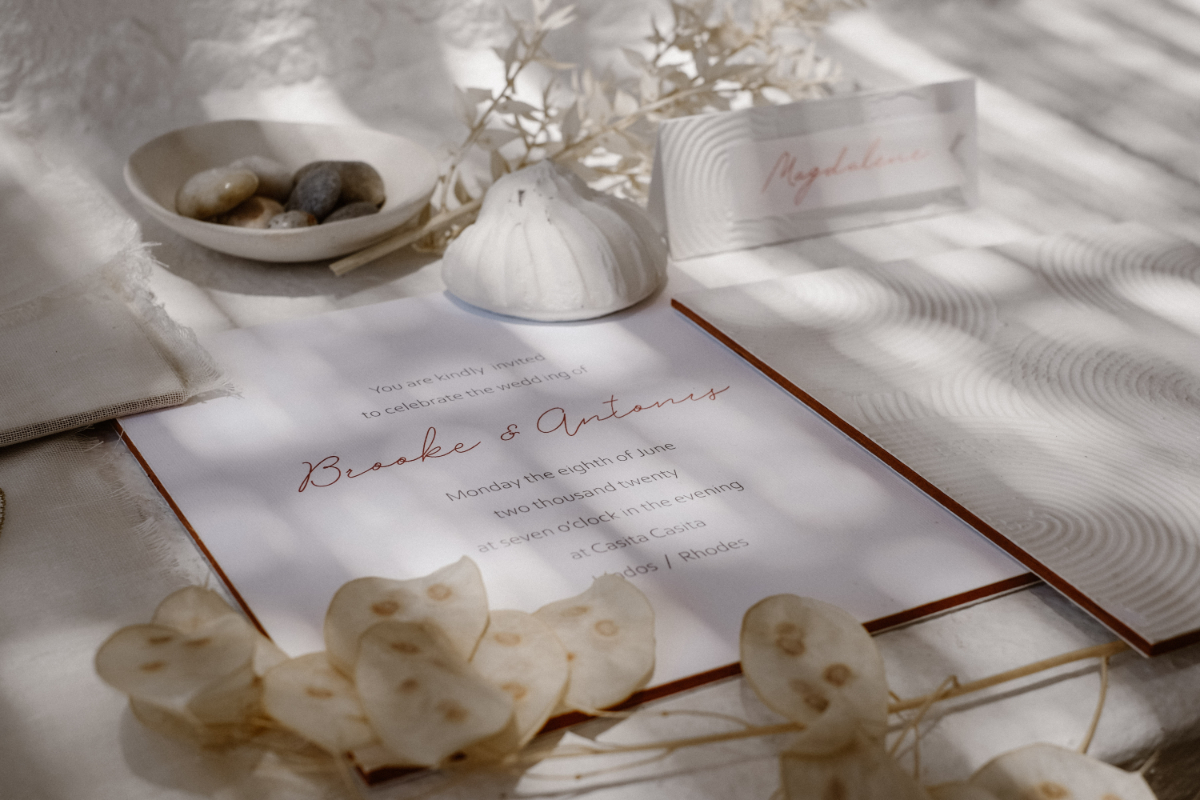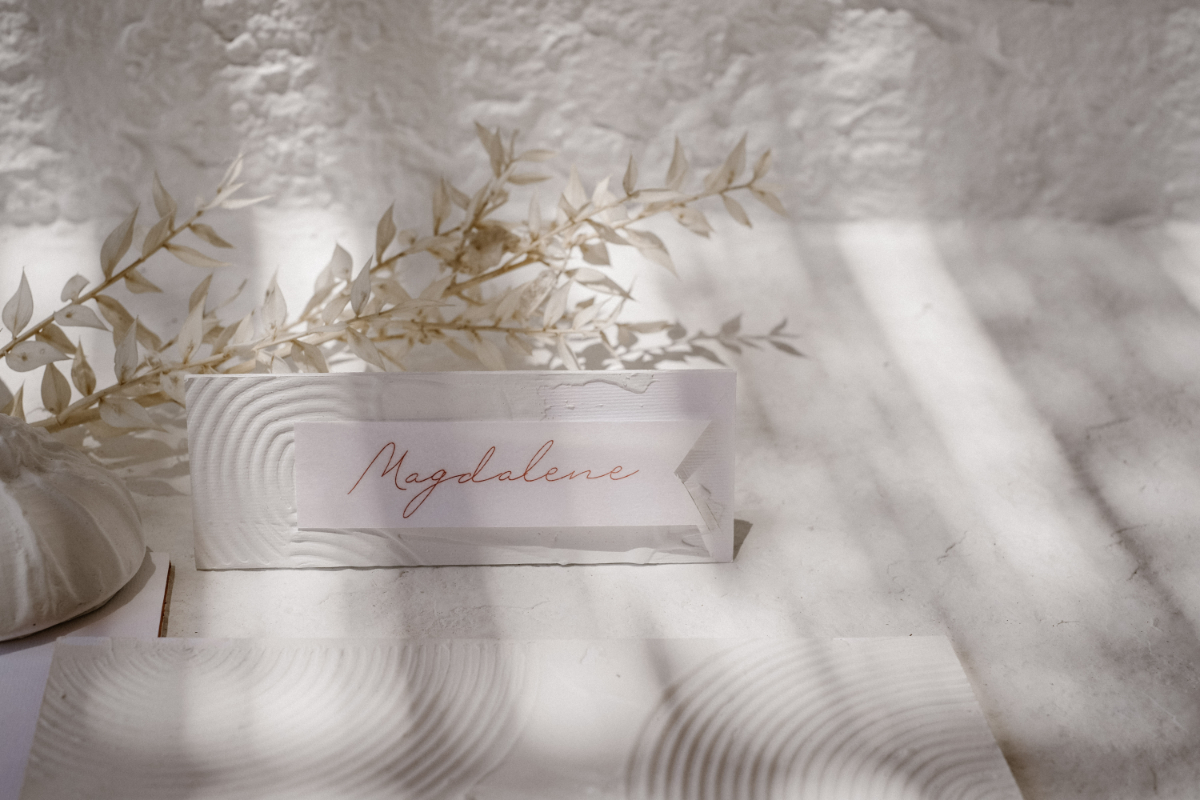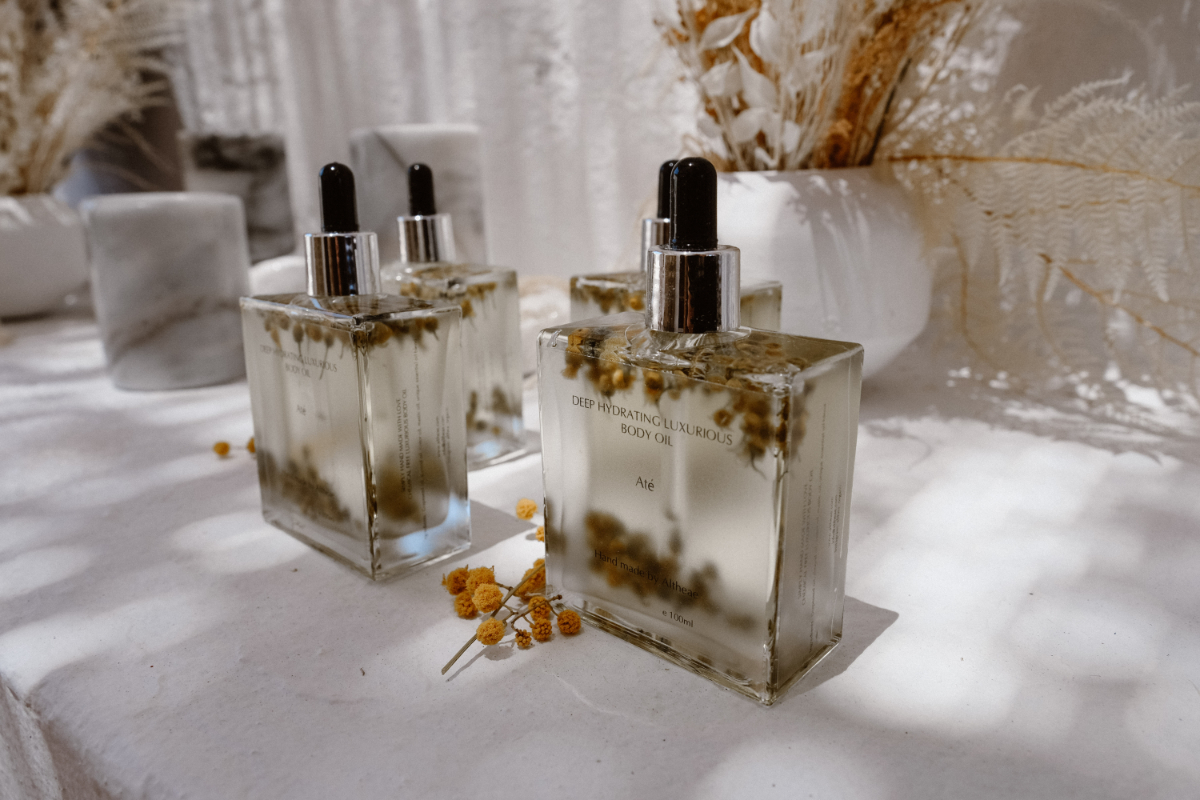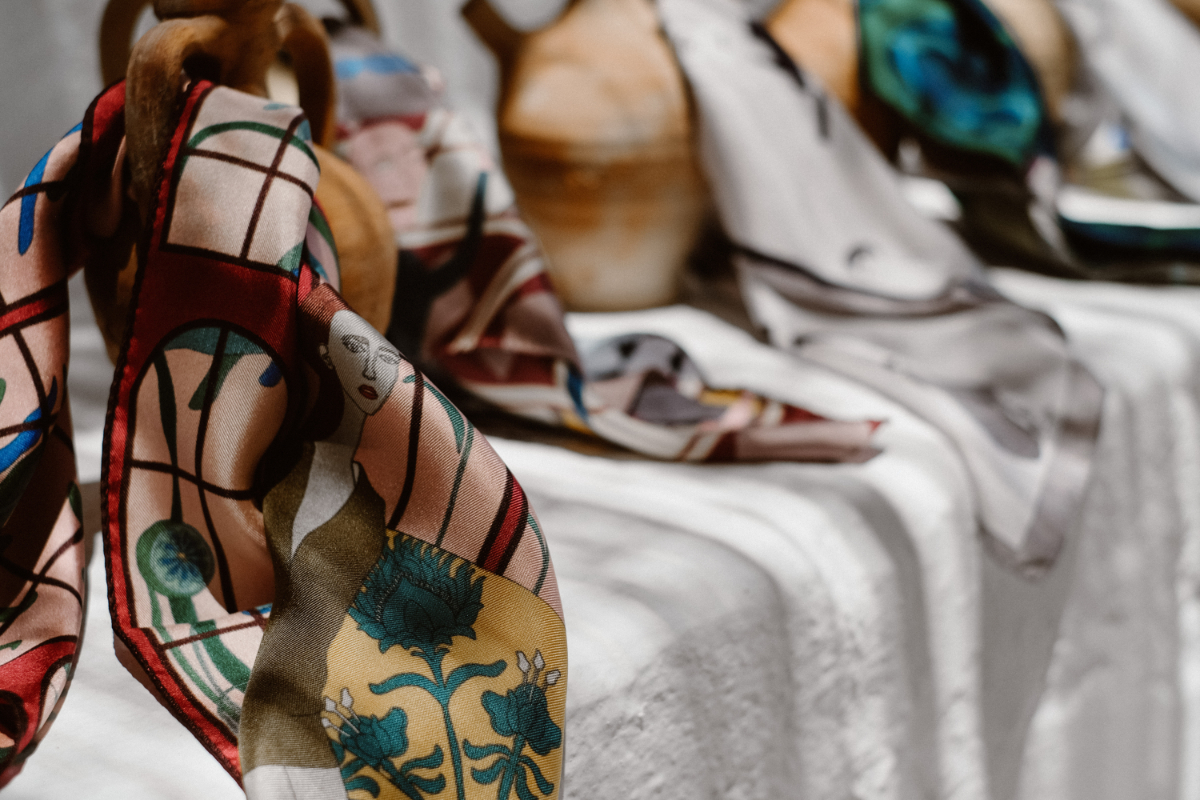 The Eventions Way of Doing Wedding Things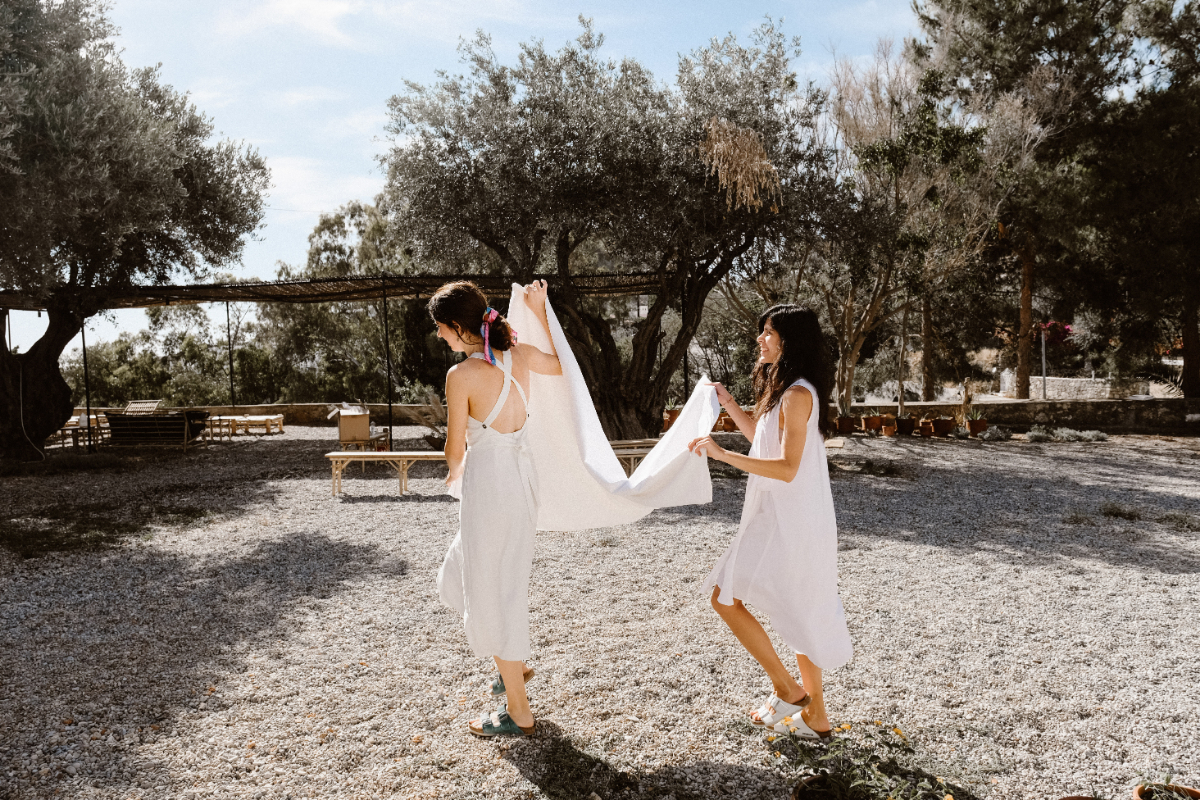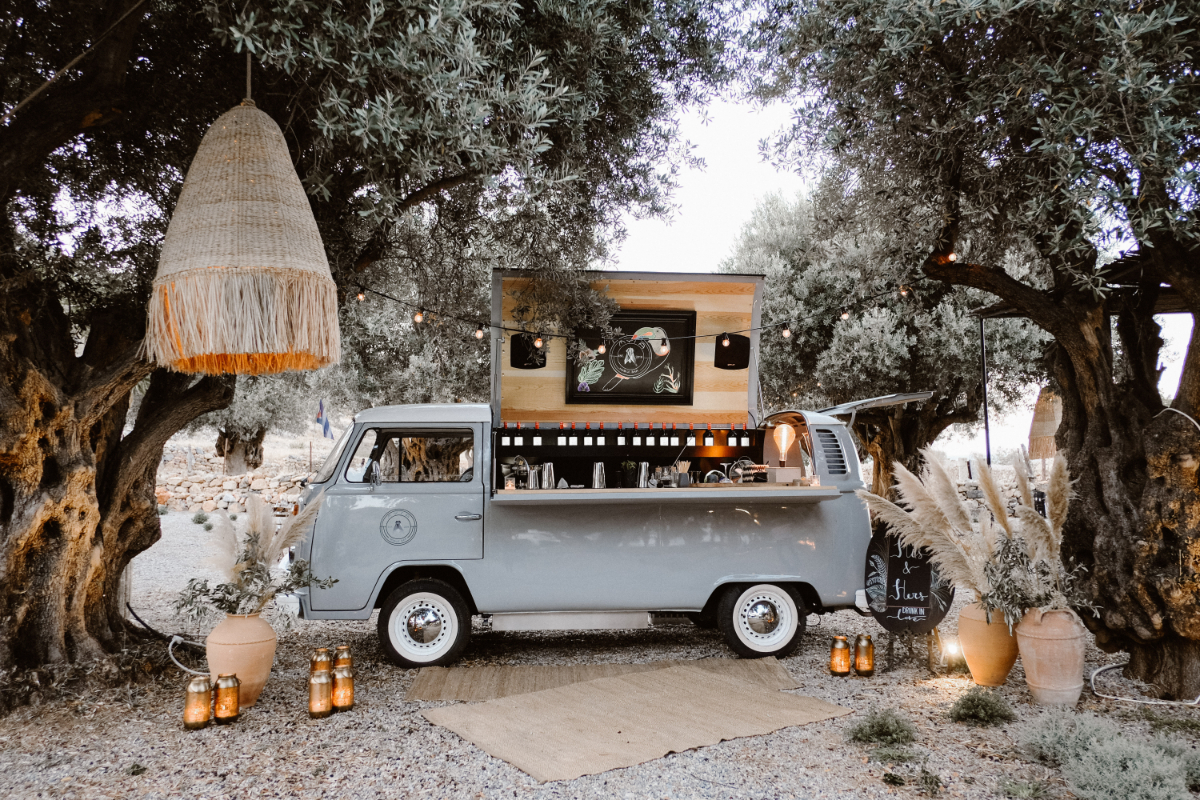 Our team is focused around the unique experience that's Greece and our style evokes the happiness of sun-kissed summers. This concept has our little hearts beat with excitement for all the monochromatic weddings soon to be! It's the trend of the year! The dried grass and flowers, the neutral shades and the pottery pieces with the silk scarves are all thoughtful styling ideas for the modern couples. Blending the neutral summer shades of the stone with the olive and sea elements (we just love salt grains!) with the traditional pottery pieces of the island is inspiring for all the couples that look to incorporate some Mediterranean flair to their wedding day. Contact Us and let's talk about your wedding!
Keep in mind that no matter what you do, and regardless of whether you decide on a monochromatic wedding or not, be sure your wedding décor reflects you and who you are. This is such an important moment in your life – celebrate it by mirroring your love story in every inch of the décor!
Vendors
Planning, Styling and Floral Design: Eventions Weddings
Photography: Magdalene Kourti
Venue: Casita Casita
Collaterals: Be My Guest
Silk Scarves: Aenaon Design
Candles: Kerino Plus
Hair Stylist: E.F Studio by Elaine
Wedding Gifts: Althea Organic & Sabotage
Linen Dresses: Hallelujah
Bar Van: Myga
Lights: Meletios Kanakis
Rentals: White Lilac
Wedding Cake: Trizeli