Mindful Christmas Practices we use in Weddings, too!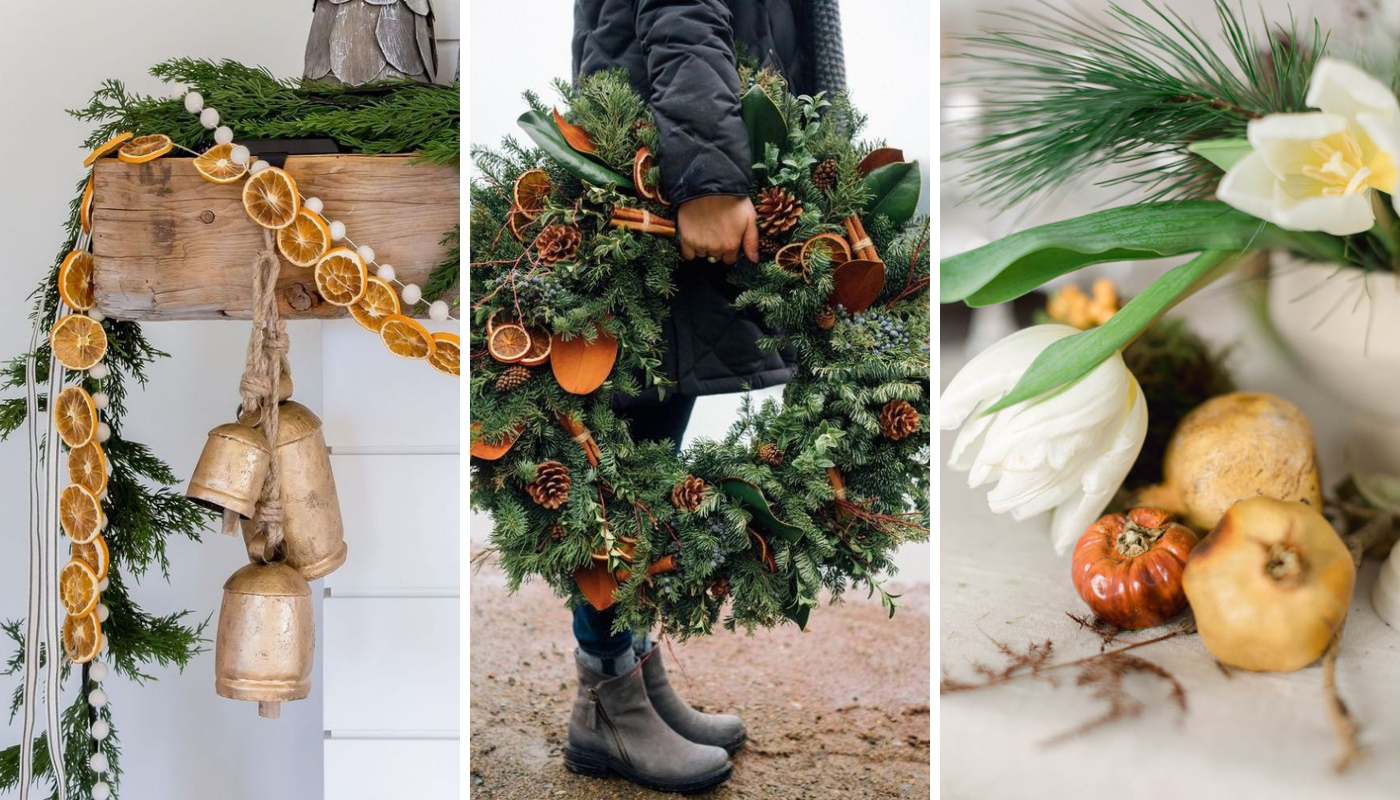 Each year we try through mindful practices to celebrate Christmas in a more sustainable and eco-friendly way. To turn a white Christmas green, we recommend the less-is-more approach – less energy use and less waste lead to more merriment – and these are practices we try to use as much as possible when we design a wedding, too. Being eco-conscious is something that goes well beyond Christmastime. It's a practice that follows our life. So what are these practices you may ask? Read on!
Look for locally made gifts
We're always manifesting how shopping locally is the best when trying to find unique and beautiful gifts for Christmas (or wedding favors we may say!), supporting small businesses and local stores. One of the key reasons it's worth shopping locally is that it reduces our environmental impact. Locally-owned businesses make generally more local purchases, requiring less transportation. Also, they also tend to set up shop in town or city centers, meaning there's generally less sprawl, congestion, and habitat loss. But it's not only good for the environment, but it's also unique. We find the most beautiful pieces in little stores and artistic studios. Ceramists, painters, indie designers, and artists we've discovered in the last years create the most beautiful and quite one-of-a-kind Christmas gifts and wedding favors.
Connect with Nature with natural decor
Connecting with nature is possible at Christmas time – even if it's cold out there (festive pun intended). Every Christmas we decorate our homes, the same way we decorate the weddings we create, using natural elements, always respecting Nature and the unique landscape we happen to be. Connecting with Nature plays a very important role in the experience of Christmas, especially since it helps us to focus not on just consuming but actually respecting Nature, trying to be as eco-friendly as possible. Whether you're tidying up the garden or going on a brisk winter's walk in the countryside, consider foraging for beautiful decorations like pinecones, holly, ivy, and mistletoe to bring nature into your home.
Reuse and recycle
Plastic trees, plastic wreaths, plastic-lined advent calendars are undeniably durable. However, there eventually comes a point where these pretty ornaments just end up as landfills. To reduce the amount heading to your nearest dump in the New Year we are reusing and recycling is a major part of an eco-friendly Christmas season and a mindful practice we are exercising every year. There are certain things like ornaments and timeless decor pieces that work for us year after year – especially if they are minimalistic in design and good in quality. The same applies to wedding decor as well. Some pieces can be reused or repurposed, helping sustain a more eco-friendly approach.
Wrap gifts with recycled paper or fabric
Although wrapping paper adds a sense of mystery to a gift, all of it ends up in the bin. So why not wrap your gifts in fabric instead? You can repurpose cloth from old scarves, tea towels, or other items using a Japanese tradition called 'furoshiki'. Swapping out wrapping paper for pretty fabric is one of our favorite easy ways to go green. Wrapping gifts with fabric is practical too! Fabric's pliability means it covers odd-shaped items and won't tear them at corners. When you're done shopping, grab a patterned scarf or piece of fabric, and start wrapping. Part of the appeal of fabric wrapping is that it is a present in itself. The receiver can not only enjoy a beautifully wrapped gift but can then reuse the cloth to give a gift of their own. Fabric wrapping is often handmade and it arguably offers more scope for creativity than standard wrapping paper, thanks to the chance to experiment with different folding techniques and the way it lends itself to botanical adornment.
Use Recycled Paper Christmas Decorations
Recycling paper, burlap, and twines, using pine cones and wood pieces are natural, inexpensive, and charming ways to add a relaxing and unique feel to Christmas decorating ideas. These materials work great together and turn simple designs into exclusive, eco-friendly Christmas tree decorations. Recycling paper for handmade Christmas tree decorations and winter holiday crafts allows to experiment with these simple, easy to work with and inexpensive materials, combine them with other natural materials, like pinecones and wood, and create beautiful Green holiday decor on a dime.
Need more inspiration? Take a look at our festive small gathering.
Festive Food and watching the Waste
While the festive season is a time for treats, it also generates huge amounts of waste in the form of non-recyclable wrapping paper, plastic decorations, and uneaten food. However, with a little prior thought, you can breathe new life into your leftovers. The first step to reducing food waste is to avoid overbuying, especially for perishable foods like meat and dairy, so think about how many people you'll be cooking for every day. When shopping for food and drink, make sure that the fruit and vegetables you buy are seasonal and locally sourced. Clementines, apples, pears, cabbage, carrots, leeks, and potatoes are all examples of food that is in season right now. You can also limit packaging waste by opting for low-waste shops and bringing your own refillable containers and make sure you recycle any plastic, glass, or paper packaging you are left with.
Staying in touch with our Planet and taking care of the environment is not only about grand gestures. It's paying attention to everyday things, especially on Christmas. Luckily, these practices extend to more than a month each year. We try to use them in wedding design as well to give couples a wedding day they'll remember without damaging the planet in doing so. That's the only way to ensure many merry Christmas days in the future, for us and our children. We hope we inspired you to switch to more eco-friendly and sustainable practices when celebrating. So from us, Have the merriest of Christmas!