Destination Wedding in Rhodes: Locations We Love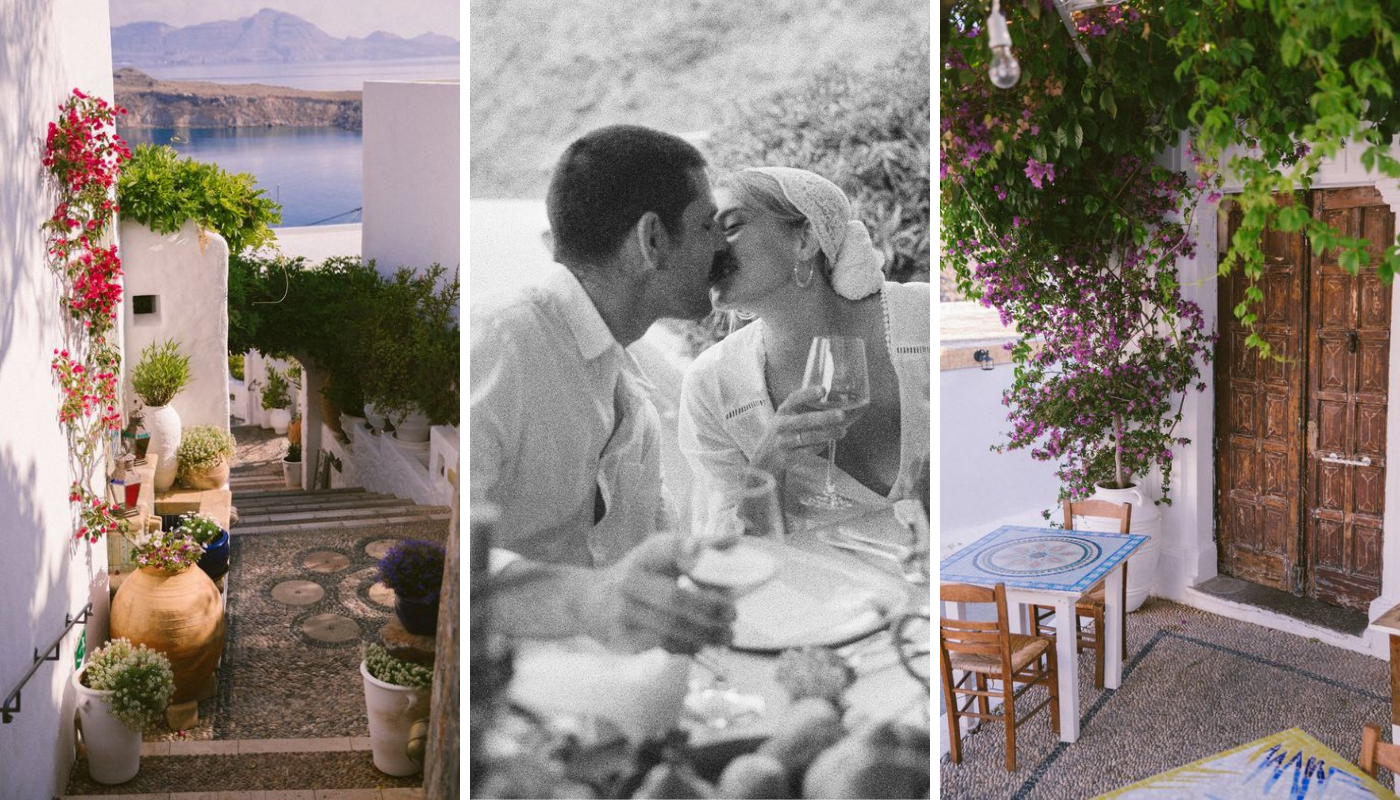 In the wedding planning business, a few years in so far, we have explored all the must-see destinations and venues to have a wedding in Greece. However, one destination still enchants us very much: our darling island, Rhodes! We fell in love with Rhodes for its sunny climate, wonderful sea, enchanting medieval town, and irresistible gastronomy. We are happy to share with you the most exclusive and elegant wedding locations and venues in Rhodes, where to plan a fabulous destination wedding!
Lindos
There are many interesting things to do in Lindos, a small seaside town on the east coast of the Greek island of Rhodes. Our favorite one? Get Married. Lindos is most well known for being home to the grand hilltop archaeological site known as the Lindos Acropolis. The old picturesque town also has plenty of sights to explore throughout your visit and dare we say make a part of your wedding festivities?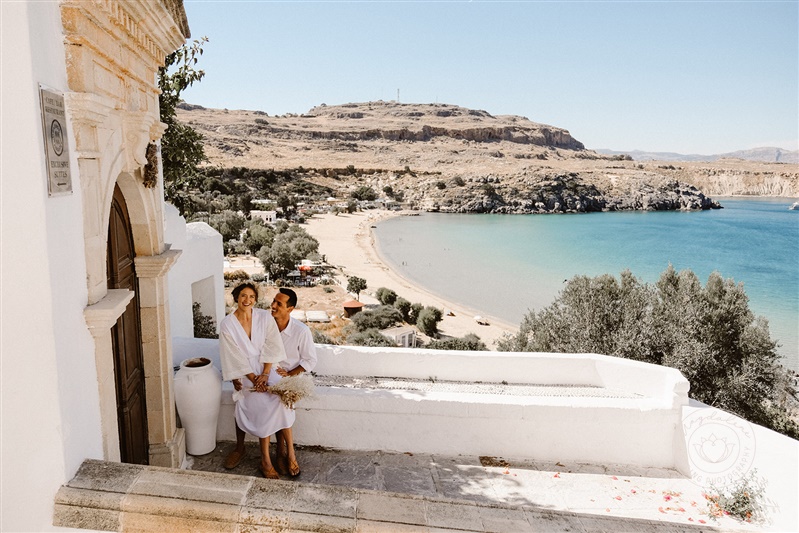 The narrow alleyways of the town hide exquisite restaurants serving freshly caught seafood and the crystal-clear waters in the nearby bays attract sunbakers all summer long. From the town's fascinating historical sites to the popular beach activities, Lindos is an attractive place to tie the knot and get a good taste of this charming destination! We love it for intimate and quiet wedding dinners, as well as bright and buzzing party celebrations. It's ideal for couples that love the beach and the cosmopolitan aura of an ancient metropolis.
One of our favorite venues? Casita Casita. The newly restored suites perfectly blend with their surroundings and create a dynamic venue where couples can enjoy the beautiful landscape, a strong culinary character, and the diversity of a venue that features an authentic Greek personality! 
Old Town Rhodes
In the Mediaeval – Old – Town of Rhodes couples and visitors sure enjoy one of the most interesting walks on the island. Do not let the "mediaeval" mislead you: rather than a ruined, deserted setting, you will be pleasantly surprised to wander through an intricate network of busy little commercial streets delightfully alternating with quiet alleys, in what is a very much alive town consistently dwelt in over the last two thousand years. No wonder for some time now, the Mediaeval Quarter of Rhodes – the oldest inhabited mediaeval town in Europe – forms part of the UNESCO World Cultural Heritage network. Mediaeval buildings, mosques, traditional fountains, oriental motifs, Byzantine and Gothic churches, shops, and cafeterias are scattered throughout the Old Town of Rhodes, all blending together to create a unique and picturesque whole. There are roughly 200 streets or alleys – some of them bearing no name. Getting "lost" here is not a defeat; it's an opportunity. Whenever you feel the need to find your bearings, you may ask for "Sokratous" street, which is the closest the Mediaeval City comes to having a main street.
Even though the Old town is lovely for photographs and for taking a stroll, there are not many venues to host a wedding. However, for couples that want an intimate wedding to celebrate this rich destination, Marco Polo is a gem waiting to be discovered. It can host up to 50 guests in May and October (which in our opinion are the best months for Rhodes, as the summer crowds are slowly dissolving).
Kalithea Springs
Just a quick drive from the bustling city of Rhodes is the stunning Kalithea Springs. Legend has it that people have been coming to Kalithea Springs since the 7th century B.C. to experience the water's therapeutic properties. While the island was under Italian occupation in the early 1900's they brought more attention to the area. They built the Rotunda and surrounded it with pebble mosaics. In 1930, over 200 scientific specialists and doctors even came to visit Kalithea Springs in Rhodes to study the medicinal effects for themselves! Unfortunately, during World War II the Germans turned Kalithea Springs into a prison. Shortly after, it experienced a resurgence once Rhodes became part of Greece and was featured in several international and Hollywood films. However, it wasn't until the last 10 years that Kallithea Springs Rhodes was renovated and restored to its former greatness. All of this history and more can be seen inside the stunning Kalithea Springs Rotunda! Today the area no longer offers thermal attributes, but it's still a great place to see the history and the beauty of Rhodes. It's surrounded by two five-star hotels and is now a popular place for weddings and other events.
Kalithea Springs is the ideal venue to book for your wedding and celebrate with your friends and family. We enjoy the tranquil atmosphere, giving couples the time and space for what truly matters. The romantic setting creates endless opportunities design-wise and it can be transformed according to each couple's style – all while the calmness of the venue brings true peace to every design.
Private Villa Wedding
If you're dreaming of hosting your wedding in Rhodes in a sun-filled location with ultimate exclusivity and accommodation as a given, choosing a wedding villa is your ideal scenario. These types of venues are ideal for weddings of all sizes, from intimate elopements to large wedding celebrations. Often with inviting swimming pools as standard and great weather when you choose the best season, there are plenty of amazing reasons to choose a villa to say 'I Do'. Stay for a long weekend wedding or extend it to a week, villas are the perfect getaway celebration venue with your closest family and friends – in Rhodes, there are plenty to choose from!
From Mediterranean villas, nestled in the heart of winemaking regions, within flourishing vineyards and olive groves (proving the most stylish backdrops for enviable wedding photos), to villas overlooking the vast blue of the Aegean sea, minutes away from a private beach all to yourselves, there is a villa for every couple in the island of Rhodes.
South of Rhodes
With sunshine and an average annual temperature in September of 29 degrees Celsius, it's no wonder that South Rhodes is a lovely destination to plan a wedding. The pristine natural environment, the upgraded services, and the fact that it's a hub for lovers of windsurfing from around the world, in addition to the great mojitos in idyllic beach bars all comprise a wedding location with a strong identity for the summer-loving couple. This is why the South of Rhodes is ideal for a beach wedding with a laid-back style! It's a beautiful destination for couples who seek calm and an open horizon – sand dunes and endless beaches you want to stay on forever. Apart from those seeking adrenaline highs in the sea (it is a popular surfing location), South Rhodes also attracts couples who want to relax in a pristine environment that offers high-quality services, and plan a celebration that everyone will remember for life.
Rhodes is a hidden gem when it comes to weddings. With many flights connecting the island to the rest of the world and facilities ready to host the guests in style and comfort, we think that is a great destination to plan a Mediterranean wedding and kick off a memorable summer holiday in Greece. We are high on ideas for a wedding on our favorite island and hometown, and can't wait to give our couples the experience of a lifetime!