A retrospective of our summer planning weddings in Greece 
It's a very unique feeling of wrapping up another season planning weddings. After some long summer months of working for what seems like all the time, you suddenly feel everything coming to a pause. For us, this was a specially challenging season, as we both had a baby. We were delighted to be adding new tiny team members to the Eventions team, but working and travelling with newborns was something that needed an extra level of planning (and to be ready for mishaps, too!). But even if this year was a challenge, what would you say if we told you that, although we have just finished our events for the season, we already miss them? After another year of planning wonderful celebrations for couples in love, we are ready for some rest and preparation for the next season, but also ready to soak up the lovely nostalgia of everyone we met this summer and all the weddings we have planned, all botanical-themed and elegant. 
No matter what Greek destination you'll choose for your wedding celebration, it's sure you'll have a wonderful time spending your day admiring the Mediterranean landscape, the wondrous history and cuisine, and of course the gentle sun and sea. Although we spend our summers in Greece year after year, we never get tired of all its character. This year was no exception for us. 
An Aegean dream
Our summer took us all over the Aegean Sea. Greek islands, despite the continuity of sea and landscape, language and culture, can be surprisingly distinct in character. The first stop was the romantic Tinos. Rocky Tinos flies under the radar among Greece's Cycladic big hitters. But its wild, marble-carved beauty makes it a quietly romantic hit – one of our favorite wedding destinations. We traveled there for the wedding of our dear friends Stamos and Anessa. It was a celebration of pure love and sophistication. 
To create this wedding we got inspired by Tinos nature's wilderness and traditional Tinian summer celebrations, the so-called "panigyria" in Greek. We wanted to bring out the island's character and created a candlelit mystical celebration in the wild, with people dancing to folk tunes, and enjoying the night. The blooms were an ode to summer in Greece, with cut wildflowers and grasses from the surrounding area, given in a refined way and thoughtful curation. 
We focused all our planning powers on bringing out the mysterious velvety feeling of the night and getting guests to enjoy the celebration. It was a one-of-a-kind and lovingly charming wedding on one of the most romantic islands.
Romance isn't always about drama and hearts bursting, nor is it all about sunsets and restaurants and amazing Instagram feeds. Sometimes, the mind-blowingly beautiful Aegean landscapes make you ache for them when you leave. Sometimes romance isn't fiery hot, but sleepy hot, like an afternoon in the marble square in the village of Pyrgos, on Tinos, a short boat trip and a few light years away from Mykonos and Santorini. 

While increasingly popular as a wedding destination in recent years, Tinos' growing reputation is still that of an "authentic" Cycladic island – and that is how it feels.
Celebrating in the beautiful Sifnos
On most Greek islands, what hits you first is the light, bouncing off burnished rocks or painting the horizon a fuzzy peach. On wildly beautiful Sifnos in the Cyclades, it's the aroma of orange-and-anise biscuits drifting down whitewashed lanes; pockets of sage and oregano in wind-chiseled valleys; blasts of brine as sea urchins are prised open, orange roe scooped up with salty fingers.
An island all about the sea, we traveled there earlier in the summer for a christening celebration in the beautiful monastery of Chrysopigi and then a sea-infused reception by the water at Lazarou Beach. The sea flora was the main focal point of the event and the flowers looked as if just pulled out of the sea bottom. With hearts filled with the special light this island holds, we celebrated the night then hopped into the ferry, and off we went for another wedding adventure!
Exploring the ever-beautiful Andros
Andros, the northernmost island of the Cyclades has a long maritime tradition and beauty all over. It was not our first time on the island, yet it was as if we'd never seen it before. Dressed in a beautiful light and a regenerating breeze we traveled there for the wedding 0f Erica and Anastasis in a wonderful, untouched by time, winery. This wedding celebration was a quiet masterpiece, a balanced and refined extravaganza for a stylish couple. We used artisan ceramics made specifically for this wedding, in shapes and forms that celebrated the notion of the union of two people. An affair to remember for years and a night worth celebrating, we loved conceptualizing it. We had never been to this winery before, a little outside of the island's capital Chora, and the result was so beautiful. We were sad to go, but it was time for another wedding day!
Collecting memories in Symi
After Andros, it was Symi. Our second home, the beautiful island of Symi, is home to small harbors and pretty fishing villages with authentic Greek character. Symi lies in the Southern Dodecanese, north of Rhodes and close to the coast of southwest Turkey. Surrounded by turquoise seas and covered in cypress trees, this beautiful island is home to small harbors and pretty fishing villages. 
Its petite size, beautiful aura, and picturesque landscape make Symi the perfect wedding destination, one we've visited dozens of times and a place where we know practically every vendor and venue available.
The highlight of our season, and a wedding to remember, on Symi we played with intricate flowers and created a wedding filled with charm. This was one of our most loved events, mainly for its unique character and atmosphere, with bright colors and flowers. Also, we designed a christening inspired by the architecture of the island and the beautiful shape of the world-famous Symian houses, the crowning glory of the island. 
After these celebrations, we took a couple of days off to rest with our tiny humans and soak up some of the summer rays in Pedi, a quiet and charming village. We spent our days bathing in the sea, enjoying the silence, and eating homemade meatballs with spearmint, made with love from a local grandma in the village's tavern. It was a little well-deserved break to recharge for the rest of the wedding season!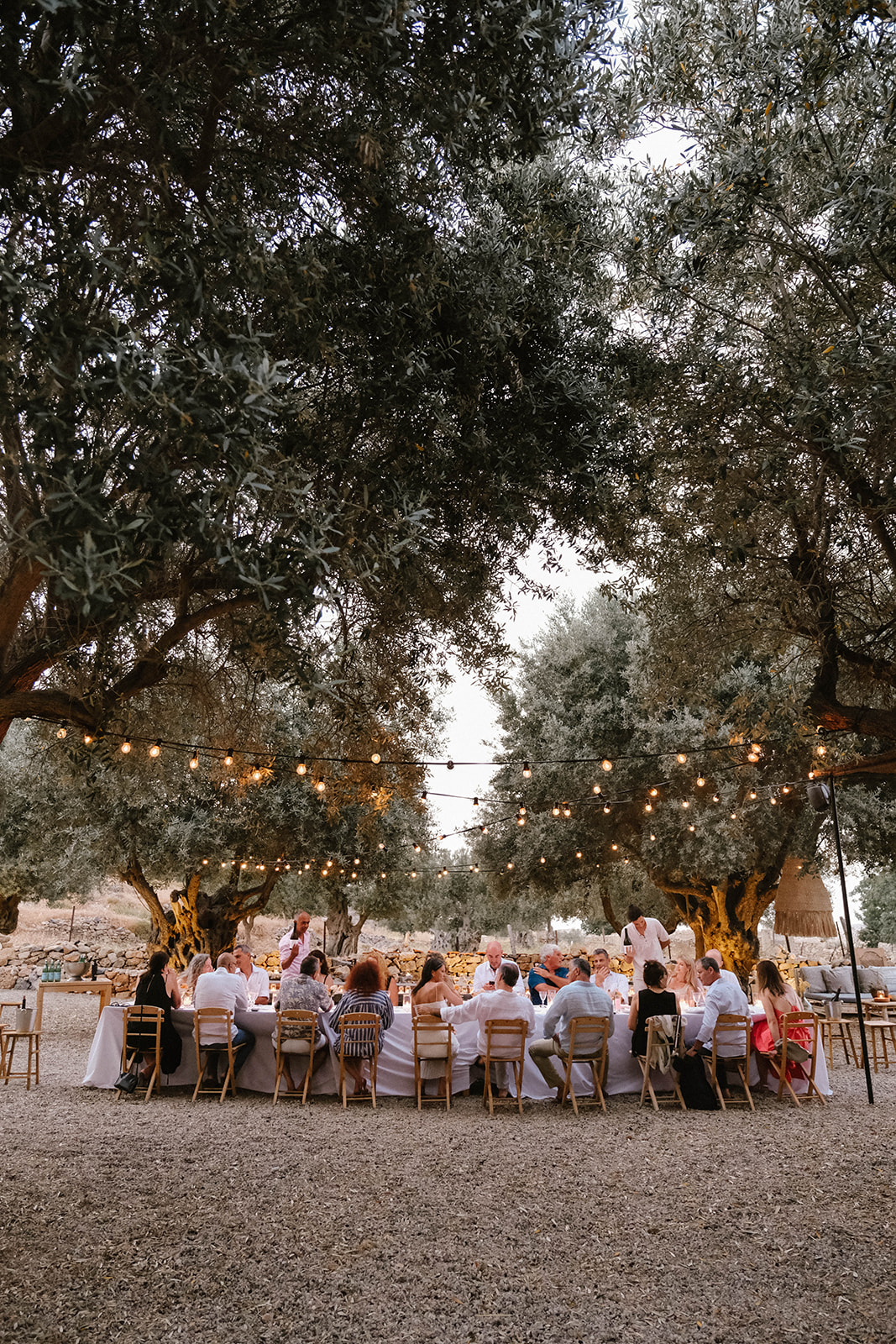 Celebrations in Rhodes
Let's not forget about Rhodes. Our home and base, Rhodes, offers an ideal backdrop for a wedding celebration, perfect for couples who want to soak up the spectacular interior, ancient towns, sumptuous villas, and stretches of deserted coastline. Rhodes has reinvented itself as one of Greece's top wedding and travel destinations. The feeling of exploring the medieval streets of Rhodes is difficult to put into words. Time seems to have stopped in the middle ages, and the atmosphere is shrouded in the haze of its Knightley past. The cobbled streets and Gothic towers challenge each couple to unlock their deepest secrets.
A highlight of the season? Celebrations in Kalithea Springs and the domed building of the local hot springs are called Rotonda, known since ancient times for the healing properties of the red water that rose from the ground. Also, we loved planning a wedding in Lindos, a beautiful little town that consists of traditional white houses, stately buildings, churches, and cobblestone alleys with amazing views of the open sea.
Also, we were convinced for the 100th time that true love exists, if you are patient and keep an open heart. Our example for the season was dear Tamy and Erez whose wedding celebration we planned in Casita Casita. These two lovelies fell in love in high school, parted ways a couple of years later, and in what seems like a romcom, found each other again after almost 40 years. They fell in love in an instant and decided to get married in the company of 15 of their best friends and closest people. 


Needless to say, planning this intimate wedding was not only a pleasure, but faith in eternal love restored. We also explored a new venue in Lindos, whose main characteristic is its all-white beauty. There we designed a bohemian wedding that ended with a glorious party and people dancing till the morning sun rose on the horizon! 
Off to the Peloponnese
A destination wedding in Greece usually means island-hopping through the Cyclades or visiting crowded, buzzy Athens. But for couples that want to experience Greece without tourists, the landscape of Laconia in Southern Greece and its wonderful villages is the perfect wedding destination. 
Many locals will tell you that the south is the best of everything Greek, from its cultural riches to its dramatic landscape. Unlike the rest of mainland Greece, Laconia is sparsely populated and unveils its charms more slowly than Athens—making it perfect for couples that want to experience the "real" Greece. We traveled to Mani for scouting new venues for a wedding next year, we will for sure be coming back.

Setting sail to Samos
Just before the end of the season, we visited Samos, scouting for a wedding next year. It was our first time on the "island of the water" as the locals call it, as from antiquity it was famous for the quality of its water. People used it as market goods, too. We loved this green island so much and we can't wait for next year's wedding there. Scouting a new destination is so inspiring every time. We got to meet new people and potential collaborators, found beautiful little venues, and explored the charming island. We might have bought our body weight in hand-painted ceramic plates, too. 

The Margi Farm, our last stop for the season
The last wedding of the season found us in Athens, on the beautiful Margi Farm. A venue known for its Mediterranean charm, it was the perfect backdrop for the celebration we had in mind! We created a rustic and elegant wedding for Artemis and Marios. We loved the wonderful postcards for the quests, hand drawn by the bride's sister depicting a residence of old Athens. A small band of young people was playing rebetika songs (a unique genre of greek music) during dinner and the night went all dancing wildly during the '70s to '90s inspired party that ended the season most delightfully and energetically!
Then October came. Our good memories of the summer, meeting new couples, long walks along the sea before going to bed, ordering flowers, laying table plans, waking up and being delighted by the gentle fresh air at each destination, partying with the newlyweds, toasting to lifelong happiness, came to an end. Hopefully, we are still enjoying some more bathing in the crystal clear sea, but we're persuaded that summer is finishing and feel like we should prepare ourselves to welcome autumn. Do you feel the same? What are your memories of this summer? 
The happy memories from all those wonderful summer weddings are still very much with us. We always say to couples how a destination wedding in Greece is a transformative, heart-fluttering, exhilarating experience that stays with you forever. Cheers to the season that's ended, and most of all, cheers to the one that's coming!