Why is a honeymoon in Greece the best way to celebrate love?
As we've already talked excessively about why choosing Greece to get married is truly a step towards the most memorable wedding day ever, today we're back with why planning a honeymoon in Greece is a guarantee for the most romantic days ever. Curing all the post-wedding blues, a honeymoon is something that every couple looks forward to. Though there are many honeymoon things to do in the typical itinerary way, the beauty of how to make a honeymoon special for him or how to make a honeymoon special for her lies in our opinion in sheer simplicity and making choices that speak to your personal style as a couple. 
On the heels of an eventful destination wedding in Greece, the honeymoon is a time for couples to relax and spend quality time together as newlyweds, exploring, soaking in their love bubble, and enjoying themselves. While simply traveling to a sunlit island destination can be enchanting in itself, planning a truly romantic getaway takes some extra effort – and you know how we're all about romance in Eventions!
What to do on a honeymoon is one question that often baffles the newlyweds. We hope to shed some light on the things you can try with your better whole for your honeymoon in Greece. You'd be surprised how many of these things can work as prewedding experiences too! Apart from planning an eclectic wedding day, our team will be more than happy to give couples a hand in choosing a honeymoon destination and making sure their experience is a grand one! Ready?
Arrange a dinner in a beautiful and romantic locale
 As old school as it may sounds, enjoying an intimate dinner or a romantic picnic with your life partner is indeed the answer for how to make a honeymoon special. Arranging for a picnic for just the two of you in a beautiful location, whether it be a secluded beach, hillside, or vineyard. For example, take a look at this beautiful picnic on Melisses Andros, infused with the Greek flavors and the Mediterranean scents of planning a honeymoon in Greece. It had everything, from local delicacies, natural products, and scenery to match. 
Feeling the romance in the air and allowing the last rays of sunlight to illuminate your smiles will surely enable you to begin your wedding journey on a bright note. Whether your picnic is on a sandy beach or majestic mountaintop, it's moments like these that you'll remember for the rest of your life. Hold hands, share a kiss, and reminisce about all of your new experiences so far together as a married couple.
 
Planning a romantic road trip around an island you love
The trend of doing something different and unique on a honeymoon is actually on the rise and you can even choose to experience adventurous things to do on a honeymoon. Living life as it happens and witnessing the beauty of the unpredictable is what a romantic road trip fills you with on your honeymoon. Many Greek islands are offering great opportunities for a memorable experience.
Secret caves, secluded beaches, and secret pathways set the ultimate scenario for trusting romance and following the road! Plus, there are so many delicacies and new things to try on each island you choose to visit. We'd be happy to create for you the perfect map for your journey or even plan a journey with a boat around your favorite island.
Live like a local and have a date like locals do
Whether it's a candlelit dinner, fine dining, a moonlit picnic, or a movie night in an open-air cinema, date nights should neither be confined to particular occasions nor should they be ever avoided. Come whatever may, date nights of every kind are the soul of every relationship that binds the couple together. Also, since Greece has a long tradition with wine, make your travel experience worthwhile by visiting one of the many wineries you can find in pretty much all the islands and taste some of the best wines. Some of these wineries will be available to arrange for the most romantic dinner experience for you – this will definitely be one of the best things to do on a honeymoon date night.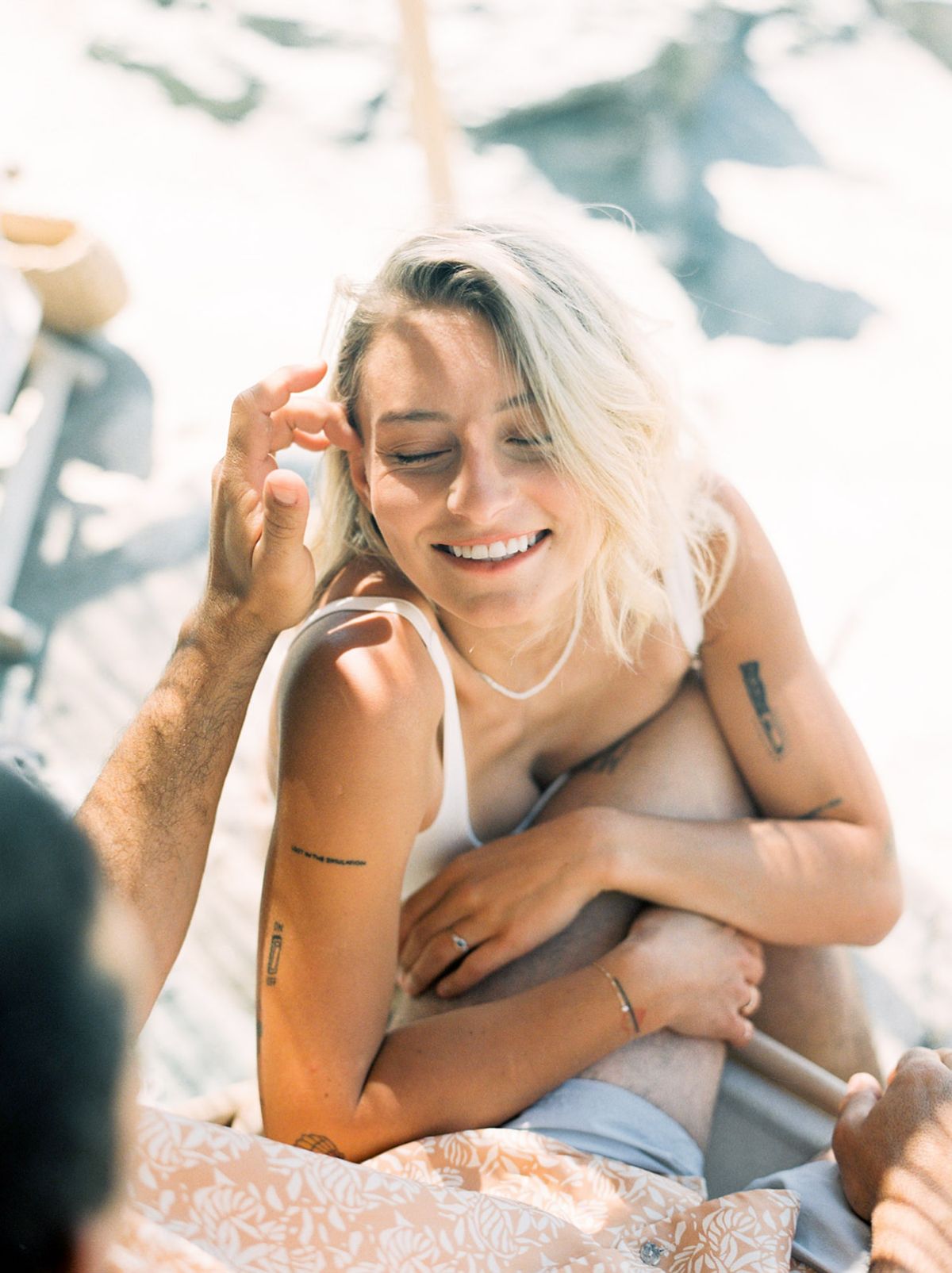 The more you go out and the more experiences you collect, it will only make your bond stronger over time. Incorporate different festivals, fairs, events, and celebrations with your outings on your honeymoon and experience something new and exciting.
Spend the day relaxing on the sea
Take one day to sleep in and then spend the day on the sea. Order room service for breakfast and then pick out your favorite swimsuit and spend the day frolicking on the beach. Keep in mind that many couples have the tendency to over-plan activities during their honeymoon, leaving them exhausted and not in the mood for romance and to relax. Plan for at least one day of your trip to just unwind in the comfort of each other's arms, swimming or sunbathing…or even spend the night stargazing. Nothing feels more romantic than spending a night under the stars with your world by your side. Perfect for a laid-back night as you snuggle with your better half, stargazing is a must experience for every couple who would love to make their honeymoon special in all the senses.
Bonus tip? Get the polaroid camera out! Every moment whether candid or not needs to be captured and that's how you make memories and live them again and again for a lifetime. Capture every moment.
Add Custom Touches
Set the mood by adding custom touches throughout your honeymoon and actually experience Greece. The honeymoon phase is all about a state of mind and wanting to spend time together. 
A honeymoon provides your first memorable moments as a couple. It sets the stage on how a couple treats each other and prepares the path to wedded bliss. Not to mention some great honeymoon memories that will help keep the spark alive while reminiscing. Also, a  honeymoon is a wonderful way to create a yearly tradition – This tradition would be in the form of at least a week-long vacation every year to rekindle your romance and relive that special feeling when your marriage was in its beginning stages. It's all about the romance when talking about a honeymoon, and we'd love to help you celebrate your love like you deserve to!