The Complete Guide to Hiring a Destination Wedding Planner in Greece
Organising a destination wedding, whether it's a hop across the country or a leap across the globe, is a venture into a realm of complexities that far surpass those of local celebrations. With fewer in-person meetings with vendors, intricate phone or video call scheduling due to time zone differences, and potential challenges of language barriers, currency differences, and local customs, couples might feel a bit out of their depth. In this guide, we aim to answer all the questions couples might have about hiring a destination wedding planner in Greece, a country known for its enchanting landscapes, islands and rich cultural tapestry.

The Hosts of a Multi-Day Extravaganza
A destination wedding in Greece is more than just a single event; it's a multi-day celebration woven into the fabric of history and tradition. Being a gracious host or hostess entails curating multiple days of events and facilitating guest travel—booking room blocks, arranging transportation, and possibly even organising flights. It's a symphony of moving parts that, to stay afloat, many couples turn to the expertise of professionals. A wedding planner in Greece becomes your eyes and ears, juggling the demanding task of curating everything so your wedding day looks and feels like a Mediterranean dream!
Why Should You Hire a Destination Wedding Planner in Greece?
Enter the destination wedding planner—a beacon of support amidst the vast sea of wedding logistics. Imagine them as the coach or captain, steering the entire team to success and ensuring every element of the celebration falls into place. Destination wedding planners are familiar with the customs, language, and peculiarities of the countries they serve, skillfully navigating cultural differences when planning.
As an illustration, in Greece, especially during the wedding season months the pace could be often slower. Vendors may take more time to respond, ensuring every detail is handled with the care and consideration it deserves. Additionally, certain regions may lack access to the same floral and rental choices as those available in the USA or Europe. Our expertise extends to seamlessly navigating work across multiple time zones, ensuring your dreams unfold with the precision and care they deserve.

Destination wedding planners shoulder additional responsibilities, especially for weddings abroad. Our expertise spans multiple time zones, managing the slower pace and unique challenges of different regions. We have a passion for intricacies—whether it's the logistics, the aesthetics, or the tiniest details like how a fork is placed. Timelines and seating plans are like strategic puzzles to us, and we thoroughly enjoy investing hours to ensure they reach a state of perfection, ultimately contributing to the most delightful experience for everyone involved.
Calculating the Costs of Hiring a Wedding Planner in Greece
The investment in a destination wedding planner varies based on services, location, and guest count. Depending on their business policy, a wedding planner can charge on a percent or a flat rate basis. This doesn't cover additional expenses like travel and accommodation for the planner during site visits and the wedding weekend. If you want to know more about the way we work and our business policy, contact us. Understanding the costs involved is crucial for couples considering a destination wedding in Greece. It's an investment not just in a planner's expertise but in the peace of mind that comes with knowing every detail is meticulously handled.
What Does a Destination Wedding Planner in Greece Do?
In addition to the conventional responsibilities of wedding planning, here's a compilation of typical tasks we usually handle as destination wedding planners in Greece:

Provide Insightful Guidance: Based on our expertise and local research regarding laws, necessary permits, and marriage licence requirements in Greece.

Curate Choices of Vendors and Venues: Tailored to your guest count, budget, and vision, ensuring your wedding reflects the charm of Greece.

Assist in Crafting a Realistic Budget: Aligned with your preferences, offering suggestions on areas for potential savings and worthwhile splurges.

Offer Travel Advice: Ensuring you and your guests can plan the trip with confidence, navigating the beauty and nuances of Greece.

Develop Contingency Plans: Addressing unexpected challenges, such as rain or other unforeseen obstacles that might add a touch of unpredictability to your Mediterranean celebration.

Coordinate with Vendors and the Venue: Managing timelines, overseeing family arrangements, and ensuring every element aligns with your vision.

Manage RSVPs and Guest Lists: Streamlining the process, making it a seamless experience for both you and your guests.

Provide Recommendations for Essential Services: Including a florist, audio and lighting equipment rentals, and hair and makeup professionals who understand the unique aesthetic of a Greek wedding.

Engage in Negotiations and Communication: Overseeing the catering team, ensuring every culinary detail adds to the overall experience.
Understanding the breadth of a wedding planner's role helps couples appreciate the value they bring to the table. It's not just about planning; it's about crafting an experience that resonates with the essence of Greece.
Local or Remote?
While some couples opt for planners based on the wedding location, many professionals successfully operate remotely all around the country, something that comes out particularly handy for destination weddings in Greece. Due to our expertise, network, and connections, the planning process and service adhere perfectly to the Greek wedding industry's strengths and limitations.
Choosing between a local or remote planner is a decision based on personal preference and the comfort level of the couple. The advantage of a remote planner lies in their ability to bring a fresh perspective, leveraging their national experience to enhance the unique charm of a destination wedding in Greece.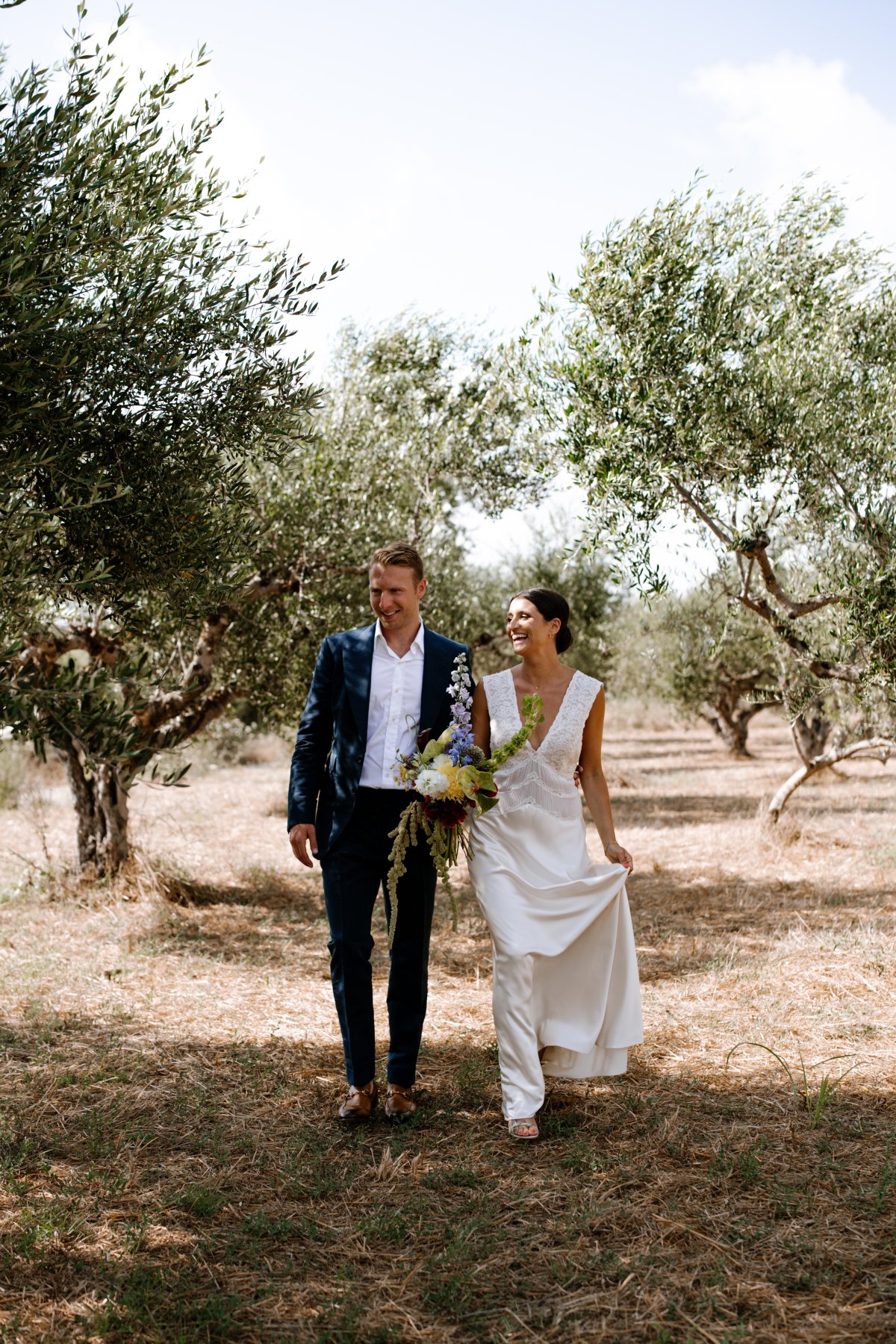 How to Find a Destination Wedding Planner in Greece
 Finding the perfect destination wedding planner in Greece involves a mix of exploration, testimonials, and personal connection:
Explore Social Media: Journey through social media for images that resonate with your vision and identify the planners behind them. You can find more about our work by browsing our Galleries here or check out our Instagram Account here!

Read Testimonials: It's always a good idea to see what other couples have said about their planners. Read testimonials to gauge the planner's reliability and connection with couples. Find more testimonials about our work here.

Schedule a Call: Arrange a call to discuss your vision, experience, and comfort with the wedding location. It's an opportunity to explore more inquiries about travel assistance and average budgets for specific locations. Sounds like a plan? Contact us here!
We hope you found this guide helpful. If you are dreaming of a wedding in Greece sprinkled with zest and freshness we'd love to help bring your unique vision into reality. Contact us and let's plan something that speaks to your authenticity!