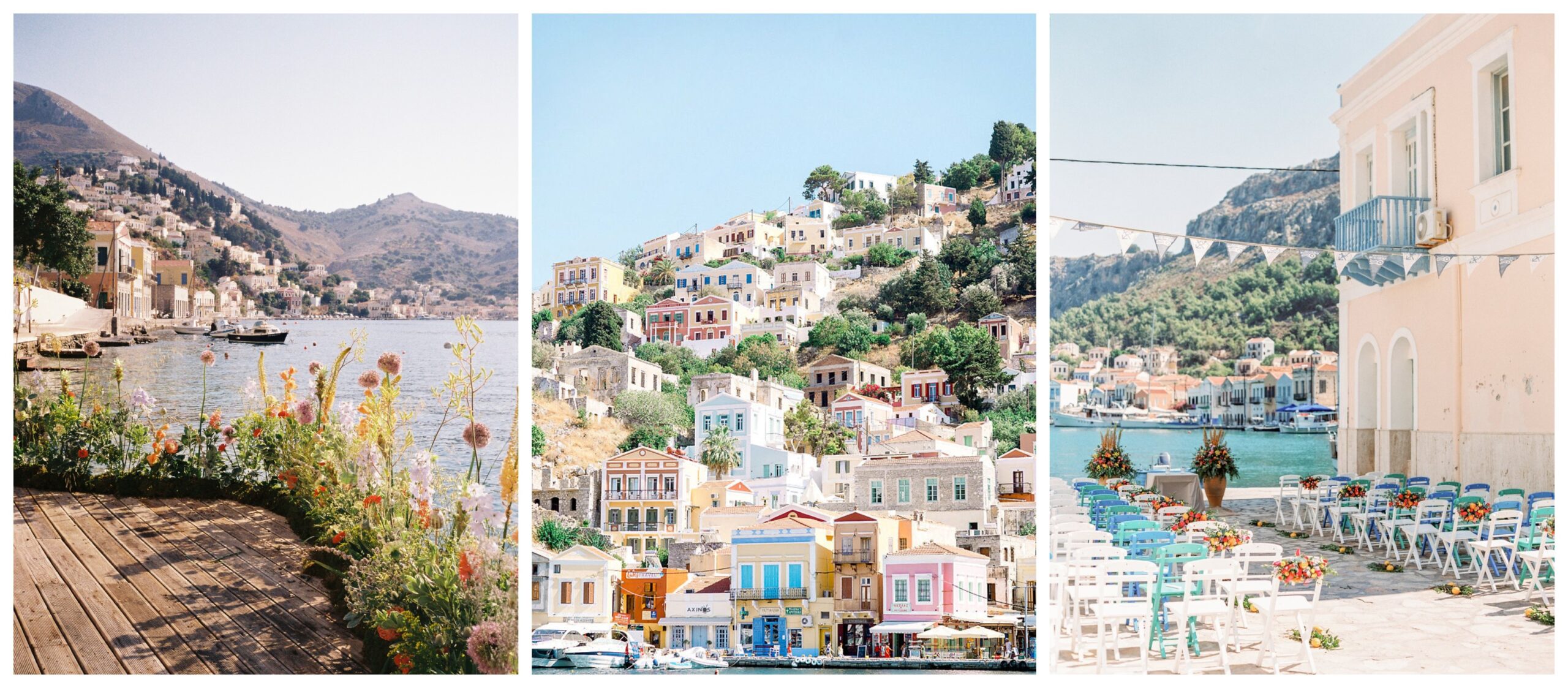 Nestled in the turquoise waters of the Aegean Sea, Kastellorizo and Symi Islands offer couples seeking an enchanting wedding destination an extraordinary experience. These sister islands, each with their own allure, share a captivating blend of natural beauty, rich history, and authentic Greek charm. Let's explore why at Eventions we think that both Kastellorizo and Symi are exquisite choices for your special day.
Breathtaking Scenery & Unspoiled Beauty
Both islands boast stunning natural scenery that will leave you breathless. Symi captivates with its rugged coastline, crystal clear waters, and beautiful beaches. Its diverse landscape, adorned with pine-dotted hillsides and traditional neoclassical architecture, adds to the island's charm. Picture-perfect beaches like Nos and Marathounda create a romantic backdrop for your wedding ceremony, offering turquoise waters, golden sands, and awe-inspiring sunset views.

Similarly, Kastellorizo's unspoiled beauty mesmerizes visitors. Its dramatic coastline, featuring rugged cliffs and hidden coves, sets the stage for an intimate beach wedding. Imagine exchanging vows on a secluded shore as the sun sets over the sparkling sea, painting the sky with a palette of orange and gold.
Gorgeous Venues
Both islands offer an array of venues to suit your wedding dreams. Symi presents traditional churches, chapels, luxurious hotels, and villas as options. The Poseidonion Grand Hotel, situated in Symi's charming harbor, provides stunning Aegean Sea views, and in its forecourt is where many charming weddings take place every year.

Kastellorizo also showcases intimate wedding venues with distinct character. From hilltop churches with breathtaking vistas to elegant waterfront tavernas, you'll find the perfect setting to exchange your vows. Boutique hotels and villas on the island offer personalized wedding packages, ensuring an unforgettable experience.
Authentic Greek Cuisine
The culinary delights of both islands are a treat for the senses. Symi is renowned for its delicious cuisine, featuring fresh local ingredients, traditional recipes, and bold flavors. Seafood takes center stage, and UNESCO has recognized Symi's culinary tradition as an Intangible Cultural Heritage of Humanity. The island's restaurants cater to diverse palates, offering everything from seafood delicacies to meat dishes and vegetarian options. Many establishments can curate bespoke menus for weddings, while traditional tavernas deliver an authentic Greek dining experience.
Kastellorizo follows suit, promising an exquisite culinary journey. Its tavernas and seafood restaurants tantalize with a delectable array of traditional Greek dishes. Fresh catches from the sea, locally sourced produce, and flavors steeped in the island's heritage delight guests. Allow Kastellorizo's talented chefs to create a bespoke wedding menu that leaves a lasting impression.

Rich Culture and History
Both islands boast a rich cultural heritage and offer glimpses into their fascinating pasts. Symi entices with museums, archaeological sites, and traditional festivals that showcase its ancient roots. Numerous churches and monasteries, such as the popular Church of the Archangel Michael in the heart of Symi's harbor, present exquisite wedding ceremony options. The captivating views of the Aegean Sea and the historical significance of these venues add to the island's charm.
Kastellorizo, while sharing similarities with Symi, exudes its own unique charm. Its small size and tranquil ambiance create an intimate atmosphere, perfect for an unforgettable destination wedding. Explore the vibrant port area with its pastel-coloured houses and the famous Blue Grotto, capturing magical moments together. Immerse yourself in the island's friendly community, where warmth and hospitality are second nature.
Easy Access from Rhodes

Both islands offer convenient access for your wedding guests. Symi is easily reached from Rhodes, with regular ferry services from the port of Rhodes. The journey takes approximately one hour, with multiple departures each day. Symi also has an airport that receives flights from Athens and other Greek islands during the summer months.
Reaching Kastellorizo adds an element of adventure to your wedding experience. Regular ferry services from nearby Rhodes provide a short but scenic voyage that unveils the island's beauty as you approach its shores. This journey heightens the anticipation for the celebrations that await you.
Say yes to the Mediterranean
Whether you choose Symi or Kastellorizo, both islands offer unforgettable wedding experiences. Their breathtaking scenery, range of venues, delectable cuisine, rich culture, and easy access make them ideal destinations. Symi's picturesque harbour, beautiful beaches, and luxury hotels create a romantic backdrop, while Kastellorizo's unspoiled beauty, distinctive architecture, intimate venues, and island charm set it apart. Embark on an unforgettable journey where love and beauty intertwine in these hidden gems of the Aegean Sea. Feeling Inspired? Check out this dreamy destination wedding in Symi filled with garden florals, a destination wedding in Kastellorizo with Meditteranean charm, of if you're a bougainvillea fanatic, this wedding in Symi may tick all your boxes!
Whether you desire an intimate wedding or a grand celebration with family and friends, both Symi and Kastellorizo promise an unforgettable destination for your special day and we'd love to help you plan your wedding day there!