When it comes to planning a wedding in Greece, there are endless options for locations and themes. One trend that has become increasingly popular in recent years is the destination wedding. And if you're looking for a truly unforgettable experience, a destination wedding in Rhodes, Greece, might just be a perfect choice – especially if you want a destination that boasts culture, sights, and a Mediterranean feel!
Our very own hometown and where we are spending our summers (as it is near most of the wedding destinations we're working to most frequently), Rhodes is an island located in the southeastern Aegean Sea, known for its stunning natural beauty, rich history, and unique culture. Rhodes is one of the biggest islands in Greece and is very easily accessible with international direct flights from many countries. A little tip for first-time visitors? Due to its large size and many places to see, upon your visit, it is best to hire a car to witness all the little nooks and crannies of the island and its amazing beaches.
Rhodes is perfect for a wedding day and this is why today we're taking the time to explore a few reasons why Rhodes is an ideal destination for your dream destination wedding in Greece.
The Island
Rhodes is a beautiful Greek island located in the southeastern Aegean Sea, near the coast of Turkey. It is the largest island in the Dodecanese group and has a rich history that dates back to ancient times. The island is known for its stunning natural beauty, crystal-clear waters, and charming medieval Old Town, which is a UNESCO World Heritage site. The island's natural beauty is truly breathtaking, making it a picturesque backdrop for your wedding ceremony and reception. Imagine exchanging vows with the Aegean Sea sparkling in the distance and the warm Mediterranean breeze blowing through your hair.
The Culture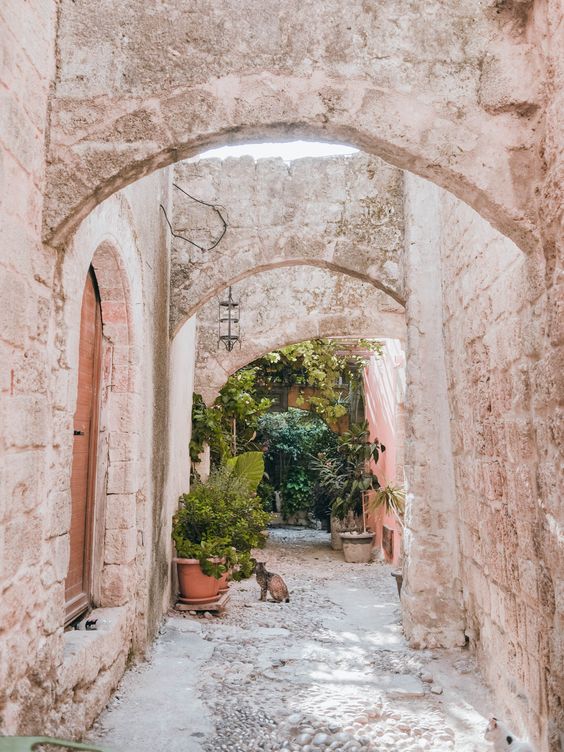 Rhodes has a rich history that spans thousands of years and has been influenced by many different cultures, including the ancient Greeks, Romans, Byzantines, and Ottoman Turks. The island's unique blend of cultures is evident in its architecture, cuisine, and traditions. A destination wedding in Rhodes is an opportunity to immerse yourself and your guests in this rich cultural heritage, from exploring ancient ruins and medieval castles to sampling traditional Greek dishes and learning traditional dances.
The Mediterranean Beauty
The Mediterranean is renowned for its natural beauty, and Rhodes is no exception. The island's stunning beaches and turquoise waters are perfect for swimming, snorkeling, and sunbathing. The island's lush forests and rolling hills offer plenty of opportunities for hiking and exploring, while its charming villages and historic sites provide endless photo opportunities. A destination wedding in Rhodes is an opportunity to experience the best of the Mediterranean and create unforgettable memories with your loved ones. The island has a varied landscape, ranging from rolling hills and pine forests to pristine beaches and rocky coves. Some of the most popular beaches on the island include Faliraki, Lindos, and Tsambika, which offer crystal-clear waters and plenty of opportunities for swimming, snorkeling, and sunbathing.
The Unique Sights
One of the most unique attractions on the island is the medieval Old Town of Rhodes, which is surrounded by 4 kilometers of ancient walls and is home to many historic landmarks, including the Palace of the Grand Master of the Knights of Rhodes and the Street of the Knights. The Old Town is also a popular destination for shopping and dining, with many quaint shops and restaurants tucked away in its narrow, winding streets. Other unique sights on the island include the Valley of the Butterflies, a natural park that is home to thousands of butterflies, and the ancient city of Lindos, which is perched on a hill overlooking the sea.
The Atmosphere
Finally, one of the best things about a destination wedding in Rhodes is the atmosphere. The island has a laid-back, relaxed vibe that is perfect for a wedding celebration. Whether you choose to have an intimate ceremony on the beach or a grand reception in a historic castle, the island's atmosphere is sure to make your wedding day unforgettable. In addition to its natural beauty and historic sites, Rhodes is also known for its vibrant nightlife, with many bars and clubs open late into the night. The island is also famous for its traditional cuisine!
Types of Weddings in Rhodes
Rhodes can accommodate many different types of weddings giving couples the opportunity to dream big when it comes to their wedding day. Whether you choose to have a symbolic or religious wedding, an intimate wedding or a large affair, an elopement with just a handful of friends, or a grand celebration with many guests Rhodes is a beautiful and romantic destination that is perfect for celebrating your love and commitment to each other. With its stunning natural scenery, rich history and culture, and warm Mediterranean climate, Rhodes is an ideal location for a wedding ceremony that you and your loved ones will cherish for years to come.
Rhodes can certainly host both symbolic and religious weddings. Symbolic weddings are ceremonies that are not legally binding but are still a beautiful and meaningful way to celebrate your love and commitment to each other. These types of ceremonies can be held anywhere on the island, from the beach to the historic castle, and can be tailored to your preferences and traditions. Religious weddings, on the other hand, are legally binding ceremonies that are performed according to a specific religious tradition, such as Greek Orthodox or Catholic. There are many beautiful churches and chapels on the island where you can hold a religious wedding ceremony, including the beautiful St. Paul's Chapel in Lindos, which is located on a hill overlooking the sea.
What we love about a destination wedding in Rhodes is that there is a big selection of venues so couples can truly choose what speaks to their hearts – whether they are dreaming of a beach wedding, a wedding in nature, a celebration in a private villa, or a historical sight. Our experience has shown that there is something for every couple according to their unique aesthetics and budget.
In conclusion, a destination wedding in Rhodes is an ideal choice for couples who want to experience the beauty and culture of the Mediterranean in a unique and unforgettable way. Whether you're interested in history, culture, nature, or simply relaxing on the beach, Rhodes is the perfect place to have a wedding. With its stunning natural scenery, rich history and culture, unique sights, and relaxed atmosphere, Rhodes is the perfect destination for your dream wedding.