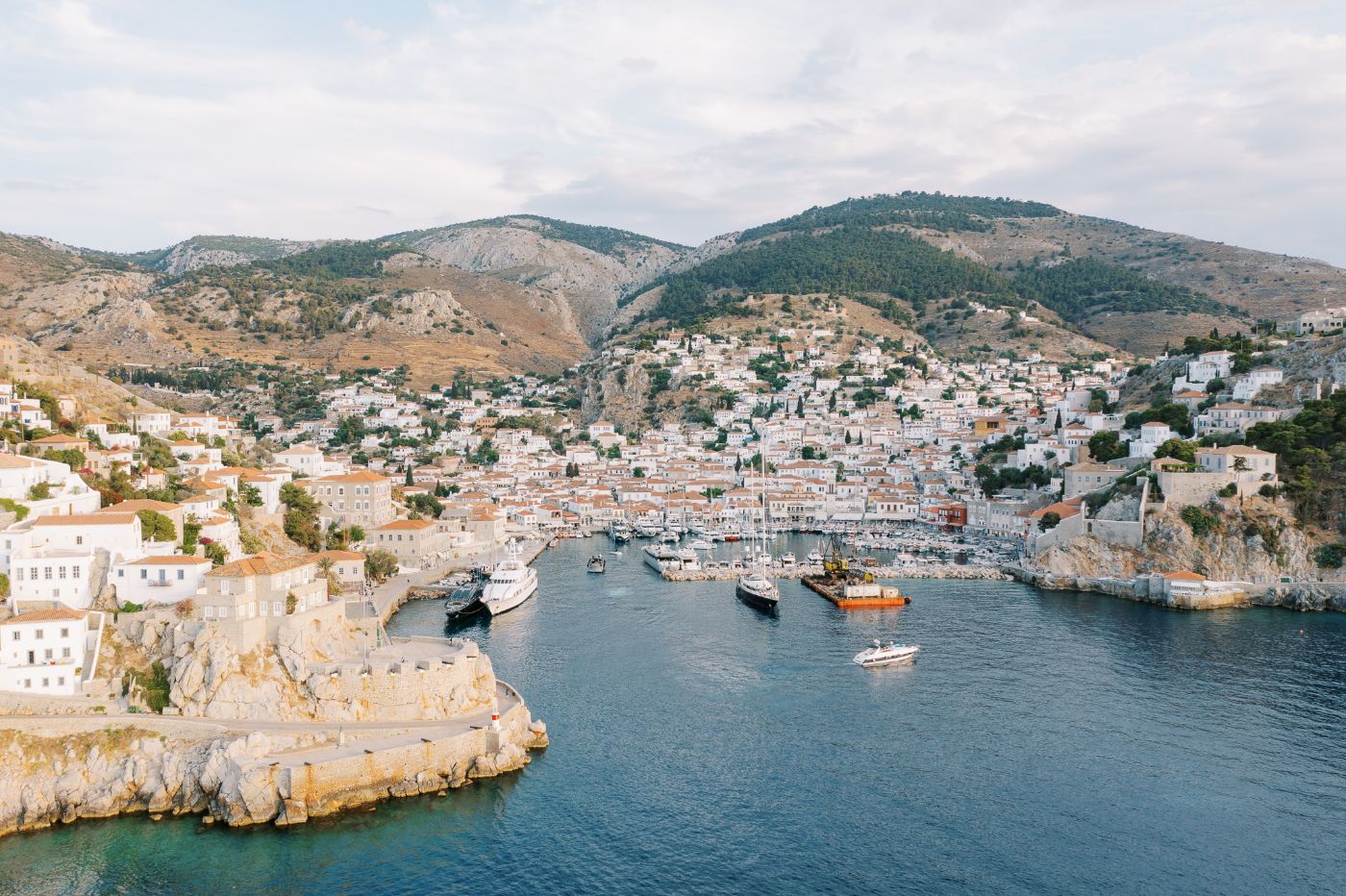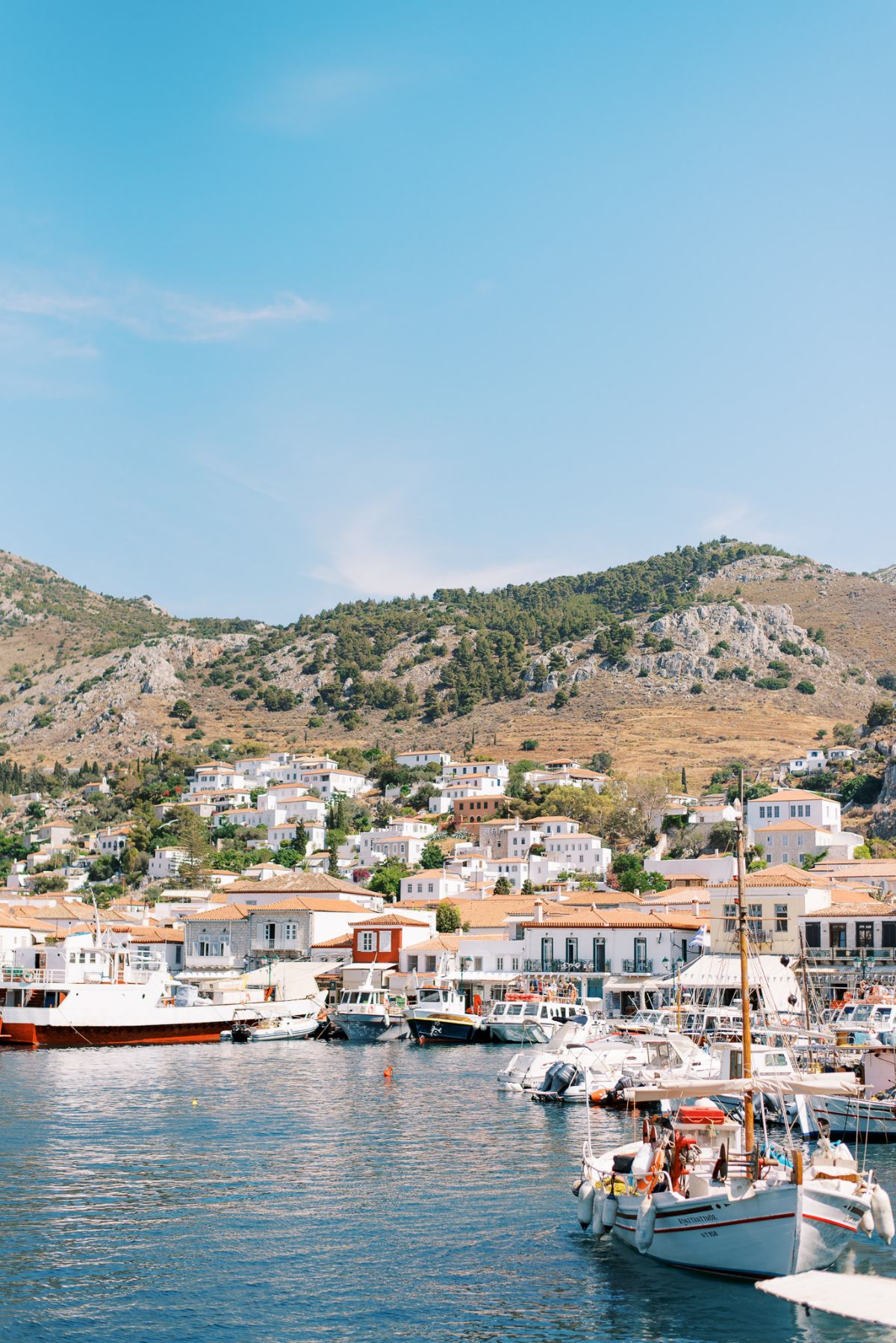 A wedding in Hydra has been definitely a popular choice for couples in the last couple of years, and an exciting destination to explore along with the couples if you're a wedding planner in Greece. Why? Because Hydra is one of the most cosmopolitan Greek islands and the noblest isle in the Argosaronic Gulf.
The moment you arrive on Hydra, you instantly feel the change of pace. The main port is cosmopolitan and elegant, with its 18th-century mansions, captains' houses, old churches, wells, and marble-covered alleyways that fan out everywhere. Everywhere you look, water taxis buzz around the island like bees. The main town, Kaminia, Vlichos, Molos, Episkopi, and Mandraki are just some of the highlights of an island that nurtured a revolution that won independence for an entire country.
Hydra is located in the heart of the Argo Saronic Gulf. It is so close to Athens that you can hop across whenever the mood takes you, this small, hilly island in the Saronic Gulf has over the years mesmerized its visitors with its quaintness, rich history, and cultural allure. One of the main reasons why Hydra is a popular destination is its proximity to Athens, as a ferry from Athens to Hydra, will get you to the beautiful island in just 2 hours. It's the perfect option for a quick getaway, especially for couples that want a near wedding destination to make it easier for their guests to get to their wedding locale.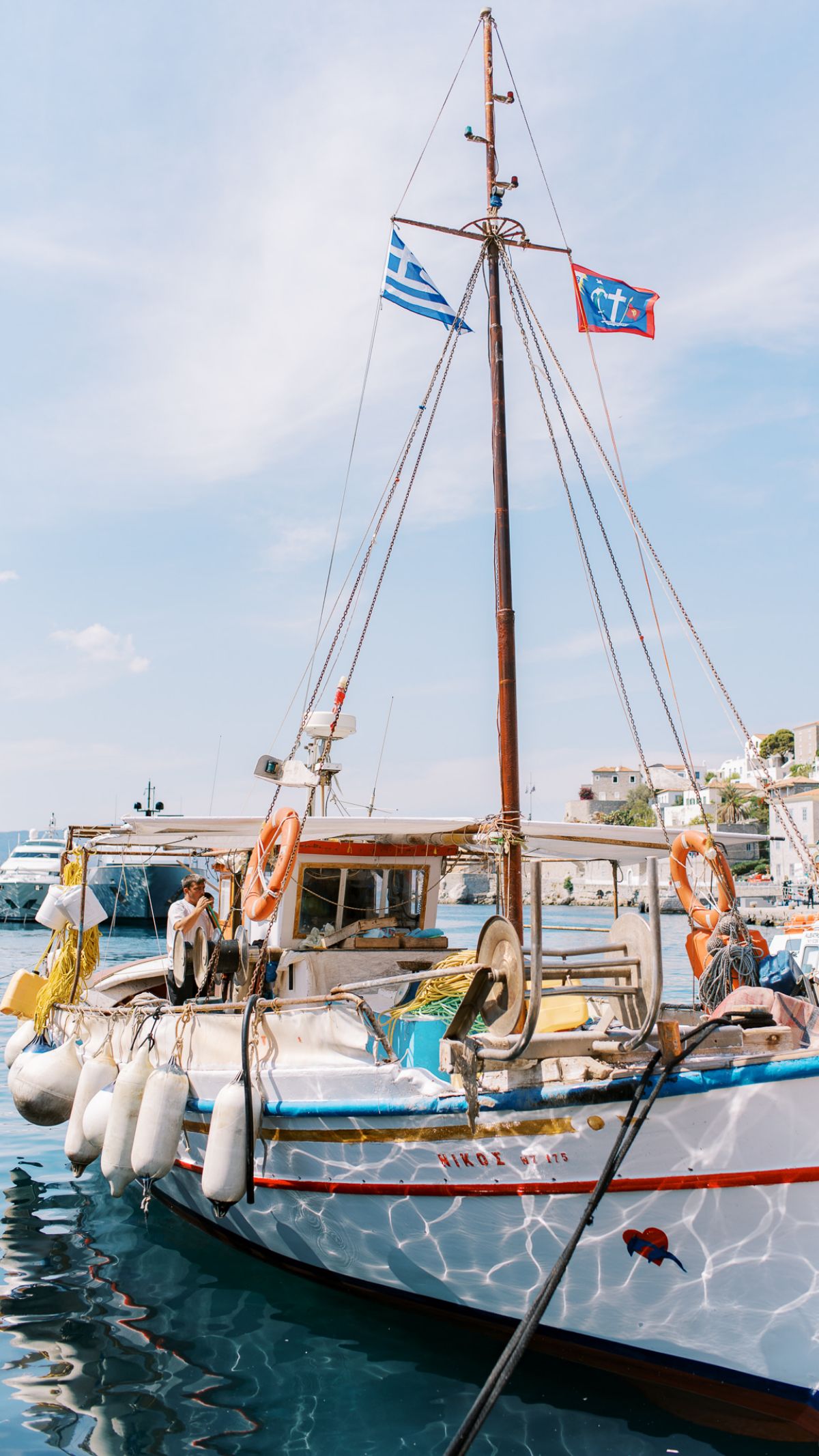 There is no denying that in some months of the year Hydra has immense glamour. In the high season, weeks pass when its port feels almost like a little St Tropez, full of visitors lolling over the day's first glass of Champagne. The charming atmosphere of the island has seduced many international jet setters and rock stars: Aristotle Onassis, Maria Callas, Rex Harrison, Peter Ustinov, Leonard Cohen, Eric Clapton, The Rolling Stones have all regularly frequented the island … as have famous artistic luminaries, among them Picasso, Chagall, and Miller. Having been a filming location of "A girl in black" and "Boy on a dolphin" movies, as well as a holiday destination for Leonard Cohen, Hydra stands out for its classy beauty!
The Special Character of Hydra as a Wedding Destination
On Hydra island, you won't see any cars! Everyone uses their foot, boats, or donkeys to get around the island. The cars ban, along with the elegant stone mansions of the island, create a charming atmosphere and make the island one of the most serene destinations near Athens. Land vehicles are banned for all time on Hydra. And what a wise choice this has proved. No wheels have meant no heavy construction or excessive hotels; the island can never be overcrowded or spoiled through overdevelopment and has the atmosphere of a long-cherished and deeply quixotic place, a place far, far away, even though it is separated from the Peloponnese by just a narrow strip of water. There are no street names on Hydra either. You simply set off and see what lies around the next corner. This exclusive and intimate atmosphere creates an ideal setting for a destination wedding or elopement, with special activities for guests and family giving them a taste of the authentic greek wedding experience.
Wedding Season in Hydra
The perfect season to have a wedding in Hydra is May to late September, since the weather is still very friendly and the temperature high! Plus, early and late summer in Hydra is ideal for both to enjoy a dreamy wedding or a honeymoon holiday!
How to get on the island
There is a regular ferry connection between Hydra and Athens. Ferries depart from Piraeus port daily, almost 5 times per day. The trip lasts approximately 2 hours and the route is carried out by a high-speed vessel. Hydra is also connected by ferry with Poros, Spetses, and the eastern part of the coast of Peloponnese.
Wedding Types on the Island
For couples that want a religious wedding, there are some very unique and picture-perfect chapels and churches on the island. For couples choosing a symbolic wedding, sandy beaches and intimate locations or minimalistic villas or sumptuous mansions are ideal as a backdrop!
Wedding activities on Hydra Island
No wedding activity on Hydra compares to a trip out in a boat. The island is only 50 kilometers square and completely riveting when seen from the water, despite not being particularly lush or landscaped with the comely vines and olive trees of other Greek islands. Still, whichever way you turn, the impact is captivating, and prewedding on a traditional boat is always a great idea to immerse yourself in the atmosphere. Also, a romantic walk in the mountains before daybreak to watch the sunrise from Eros mountain, the highest point of the island is a lovely experience to have with your better half if hiking is your thing! The panoramic view of Hydra and the Aegean will enchant you.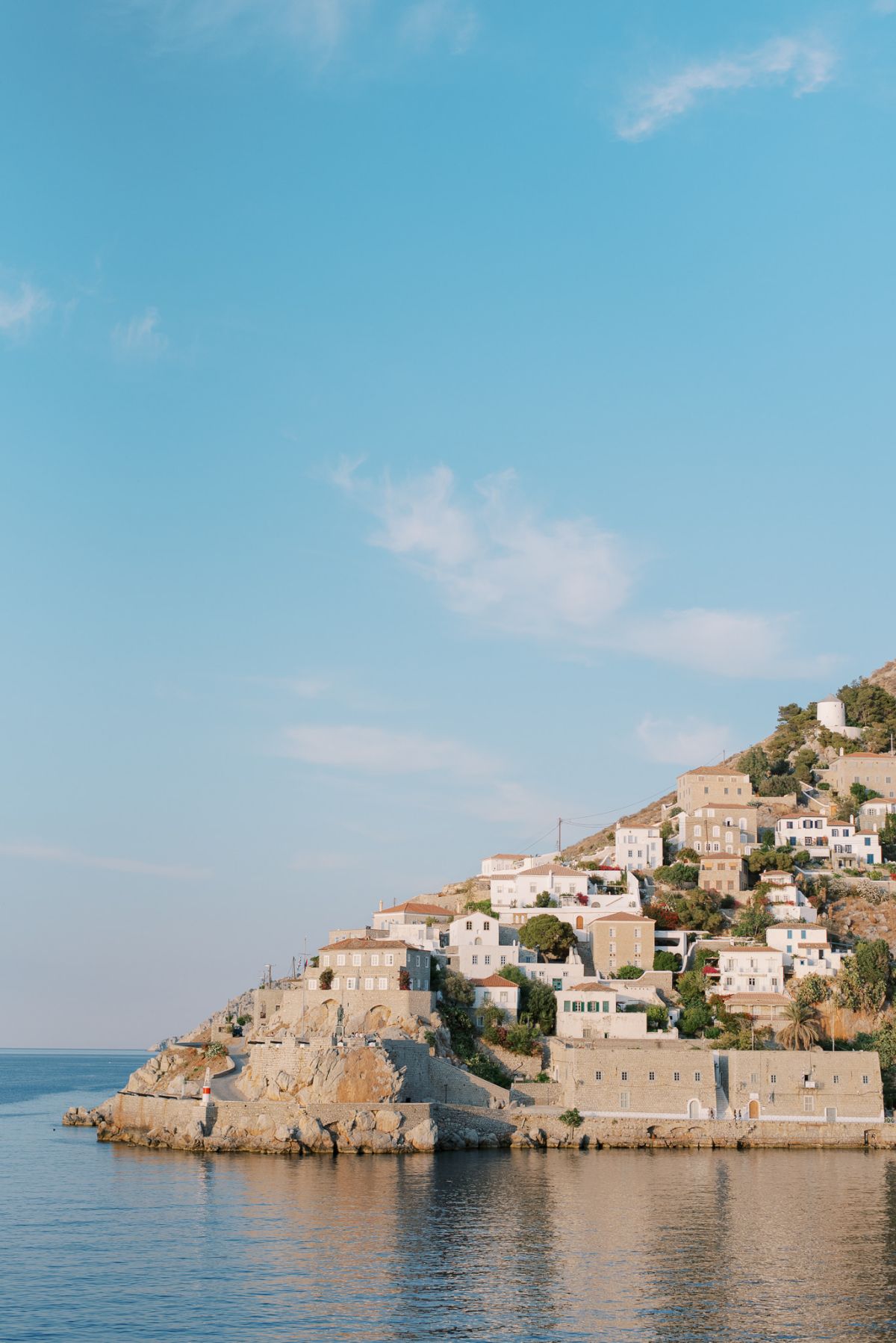 For the culture-savvy one of the best things to do in Hydra is to visit its museums. The Byzantine Museum, the Historical Archive Museum, the Post-Byzantine Art and History Museum, and the National Historical Museum are some of the best museums to visit! Also, internationally renowned Greek collector Dakis Joannou chose an old slaughterhouse to create a showroom and exhibit space called DESTE Foundation for Contemporary Art. Each summer, innovative exhibits, hip happenings, and events with international appeal attract famous visitors from all over the world – perfect for a wedding day, don't you think? For the explorers? Climb to the oldest settlement in Hydra, Kiafa, located high above the harbor. This gem is made up of narrow alleyways, impressive mansions, old grocery stores, and boutique hotels. Trekking up to the seven windmills at the top of the hill of Agios Athanasios, you'll be rewarded by the view into the Saronic Gulf.
Folkart inspiration decoration + Architectural elements
As soon as you step onto the cobblestones of the harbor of Hydra, you change century. The well-preserved mansions and manors could have come from the set of an old movie. Perfect for everyone who believes the best way to discover a new destination is on foot. If you like elegant wedding destinations, you'll fall in love with Hydra! Elegant stone mansions, narrow alleys, donkeys walking around, churches, little shops, and a picturesque waterfront set the scene of an island fairytale! Given that there are no cars in Hydra and people usually get around on foot, the island's roads are not clogged with traffic and fumes. Sumptuous mansions and humbler vernacular homes arrayed amphitheatrically around the marble-quayed harbor date from the 18th and 19th centuries when Hydriot seafaring prowess brought great wealth. Despite its high-profile reputation, and the mid-day arrival of "One-Day Saronic Cruises", the island remains endearingly time-warped: as a listed architectural reserve, all new construction is (theoretically) banned, and the town (though not the remoter parts of Hydra where pick-up trucks and 4WDs are seen) remains blissfully free of motor vehicles except for two small fire trucks and a few miniature rubbish trucks – photogenic donkeys (or mules) do most haulage. The fact that there are no cars. Everyone gets around on foot, on a mule, or in a boat taxi. It's the way of life here.
Hydra isn't well-known for its beaches because they are few and far between, and super-crowded during the summer. The most beautiful and the most far away is Agios Nikolaos. Luckily, there are ferries to take you back and forth. However, swimming in the rocks and mini-coves near the harbor is not without its charm.

It's sweet or nothing: the traditional wedding sweets
There are many local sweets on the island we love incorporating into the wedding favors, candy bars, or welcome gifts! The Amygdalota of Hydra is a local variation of the traditional almond cookie that's popular in many destinations in Greece. The dough is formed in a pear shape, baked, sprinkled with powdered sugar, and topped with a clove. A ribbon is tied around each cookie and served at wedding celebrations and special occasions. 
Today in Greece you'll most likely find almonds in desserts or sweet treats. Since this particular nut generally symbolizes happiness, prosperity, and good luck, it plays an important role in Greek weddings and baptisms, with sugared almonds and other sweets made with almonds, like amygdalota, being offered post-ceremony. Amygdalota in particular is a treat that symbolizes new beginnings. Like many desserts in Greece, there are seemingly endless variations of amygdalota: The exact recipe, which determines their shape, texture, and flavor, depends on the region from which they originate. The amygdalota made on Hydra Island are particularly famous!
The traditional tastes in Hydra are endless – perfect for the foodie couple having their wedding there! There are very savory recipes traditional on the island including the totally unknown but actually very delicious: beef with quince! Moving away from the main town, you'll discover picturesque villages, such as Kaminia and Vlichos that are perfect for a wedding day. There you will immerse yourself in the traditional side of Hydra at the traditional taverns and taste fresh fish and local delicacies!

Only for Weddings?
Hydra island could not be limited only to a destination wedding celebration. We love couples and families that travel to celebrate life milestones. There is a certain sense of freedom and exploration when you're hosting a destination event. Everyone can enjoy the journey of getting to the destination, of discovering how it's unique and different from what they know, and how beneficial it is for opening the mind and the heart to the beauty of Greece!
We've recently been on Hydra for a delicate and very beautiful destination baptism! There is no limitation to the events that can be hosted on the island. We could definitely see it being the perfect backdrop for an engagement party, a birthday celebration that coincides with a holiday in Greece, as well as a bachelorette party destination, or a weekend getaway for a proposal – the choice is in the mind of the beholder!
For a baptism, the island accommodated the guests and the experience perfectly and gave everyone the much-needed opportunity to soak in the charming personality of Hydra. After the sweet religious baptism ceremony in the Cathedral Church of Hydra Town, the Monastery of the Assumption of the Virgin Mary, we created a lovely dinner reception in the sweetest colors and a laid-back atmosphere in Hydra's most wonderful venue; Sunset.
The location is famous for its traditional charm and most of all the stellar sunset and sea views. Key to how we approached the christening celebration was keeping the florals and decoration minimal and inspired by the gardens in the lovely mansions that are scattered throughout the port while adding sweet and innocent touches like the wedding favors! It was the perfect celebration for the sweet family that chose to work with us on such a beautiful island!
Destination weddings and Events in Hydra
Hydra is a lovely destination for a wedding in Greece and an island that has so much to offer and as a wedding planner in Greece, we could see it working for so many wedding styles! If you're in the search for a dreamy wedding location, Hydra should definitely be on your list, as well as all the other islands we've been talking about in our blogs. Wanting to help our couples step out of the ordinary wedding locations, we've rounded up a collection of alternative wedding destinations in the Cyclades, following our detailed Dodecanese islands guide that'll make you swoon in excitement as they feature all the information you may need when choosing your wedding island! We hope we gave you an idea of how a wedding in Hydra is a lovely idea. Your wedding location says many things about your personality as a couple! Luckily Greece offers an amazing variety of beautiful islands to kick start your wedding story on! We will be on your side to make sure your wedding day is completely stress-free, filled with Mediterranean charm, creative flair, and all those little details of zest and freshness! Contact us and let's talk!