Decor Concepts for a Destination Wedding in Greece 
Decoration and aesthetics play a huge part in our daily lives, pretty natural for a wedding planner you'd say, and coming up with creative ideas for all the destination weddings in Greece we'll be hosting is our cup of tea! After a year with multiple ups and downs (we're talking about you 2020!), we took some time to focus on the new year ahead and think creatively.

In this blog post, we decided to be transparent in the ways we're building our decor concepts and share with you some examples of our events for 2021. This year in the Eventions Studio is all about color, texture, and unique little elements. We hope you'll get inspired whether planning a wedding this summer or browsing the market for fresh and creative ideas! Whatever your cause, keep on reading!
Destination Wedding in Tinos
Wedding Colors With a Breath of Fresh Flair
Tinos is big this year for destination weddings! And why wouldn't it be? In our opinion, Tinos is one of the Greek islands you'll absolutely fall in love with as soon as you set foot on it and stay in love with it forever.
Tinos has more than 50 villages, each vying to be fairest of them all and despite a scourge in tourists the last couple of years, Tinos is miraculously untouched. Solitary chapels and whimsical dovecotes stud thyme-scented hills, dropping to sandy bays whipped by the Meltemi wind.

Since many couples are choosing to host an outdoor wedding this year, beachside affairs and by the water celebrations are going to dominate the scene! Tinos has a lot of picturesque villages for a wedding by the sea. Our concept for a Tinos wedding is leaning
towards bold and colorful, pushing the typical ideas of wedding decor and moving in the direction of fun, bright and happy. We'll be using an amorous palette of red, baby pink, and blush, with white and sand accents, completed with brushed cotton, dessert mist, and silver eucalyptus!

 The pretty wedding details
We're focusing on local gems once more, on-site artisans, and handmade traditional pieces that add a charming flair and strong sense of self to our wedding designs. Traditional baskets and elements for the island, patterns, and shapes indigenous to the island are only some of the ways we will be experimenting for the destination weddings on the island.  After all, our style is deeply inspired by adding pieces of tradition into an otherwise modern concept! This way all the wedding details become more intimate, personal, and elaborate!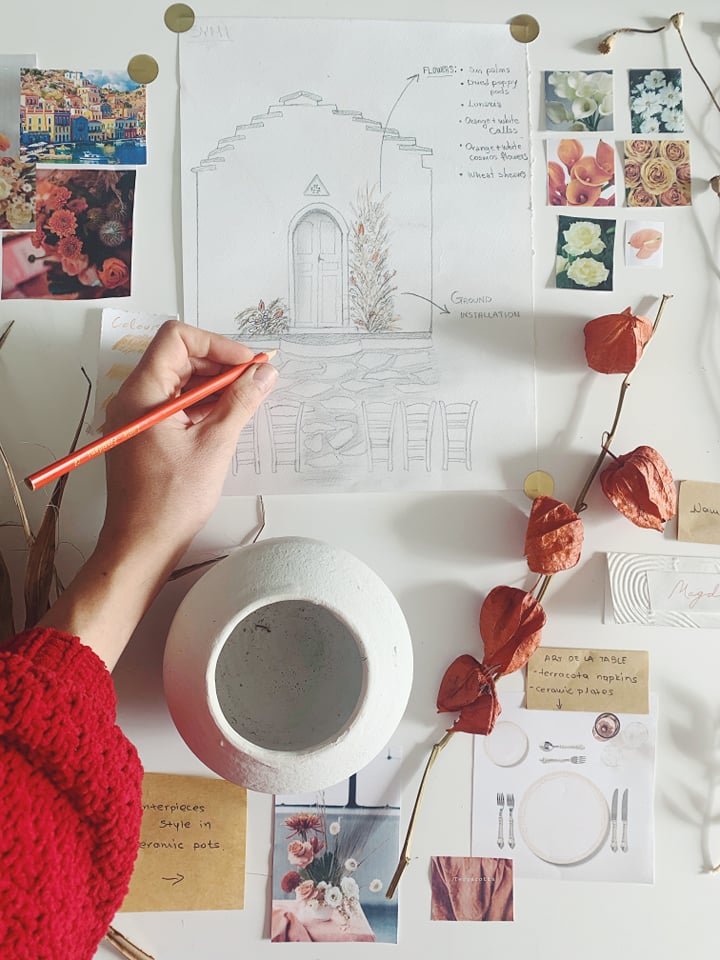 Destination Wedding in Symi
Natural tones and bright pops
We call destination weddings in Symi the dream island because there is not another place in Greece equally charming for a wedding day, as the unique little capital town of Symi and all its surroundings. Little Symi has the prettiest port in Greece. As you round the headland, neoclassical mansions in every shade of apricot and peach rise like a mirage from the sea. Built by 19th-century sponge and spice merchants, the whole town is now a national monument.
With its laid-back glamour, luminous sea, and almost tropical microclimate, Symi is the perfect place to have a beach wedding! We're planning a stunning and picture-perfect beachside reception on the nearby isolated islet that you reach by boat. For an island with this amount of character, we curated a palette of white, rust, and marigold, completed with macchiato shades and khaki details. We're sprucing it up with brighter pops of colors like mango and tansy green for the perfect summer touch!
The pretty wedding details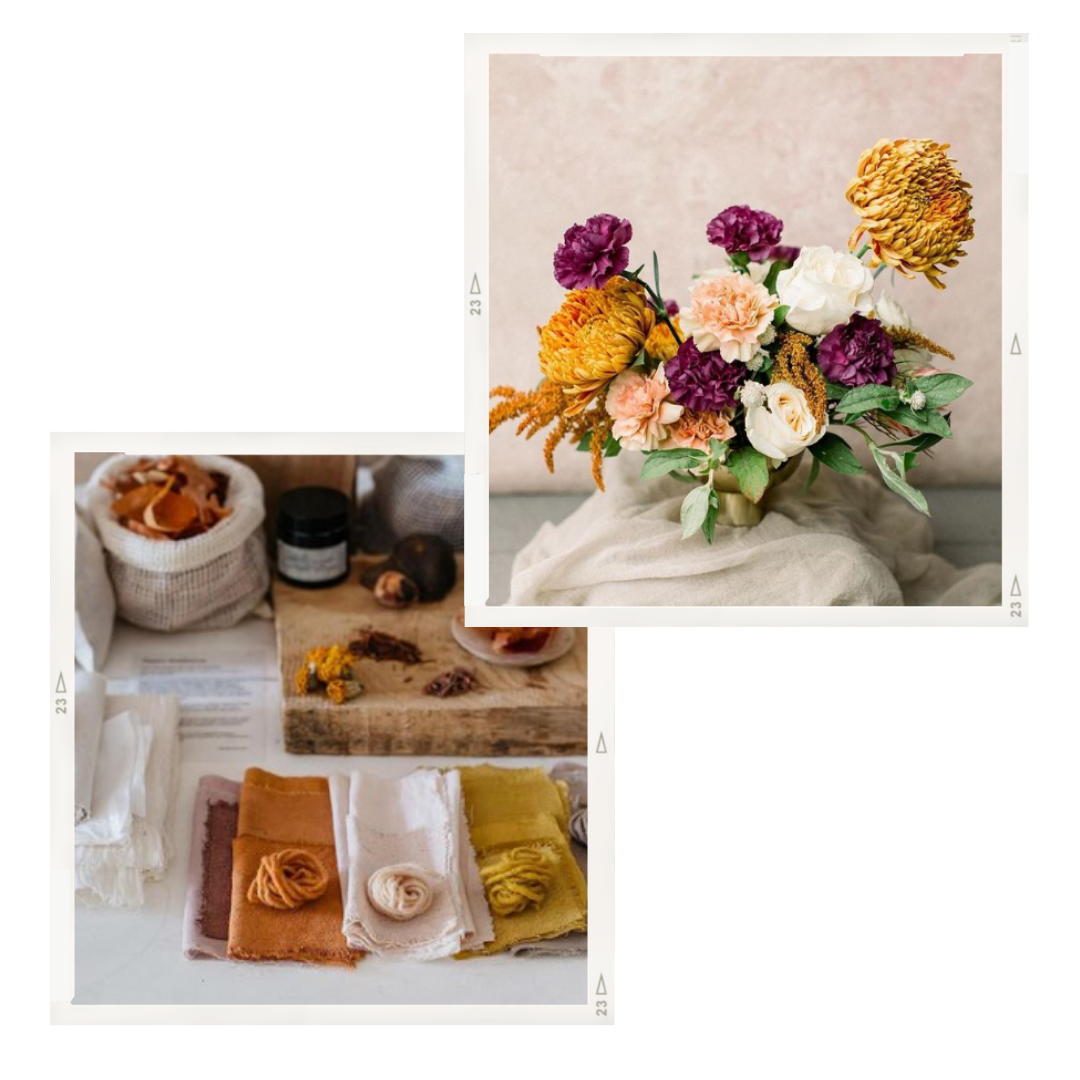 Natural tones are our heaven; there are simply too many things to do! We are inspired by the earthy colors of clay and the terracotta shades for the wedding details, possibly choosing decor pieces indigenous to the island. Remember that time we used stationery that looked like art? For the wedding we're curating in Symi, white textural wedding stationery with plaster techniques is the way to go!
Tying everything together, we'll be using terracotta napkins and earthy colored crockeries that will add a strong finishing point to the overall styling
 Wedding Florals
If the character of the island is overly colorful like Symi, we're suggesting muting it down with a more minimalistic and toned floral design. We're using earthy colors for the florals with all church outdoor covered in buttermilk & mustard plumose, a sophisticated and delicate choice!
Destination Wedding in Old Town Rhodes
Bright and Refreshing
Rhodes has reinvented itself as one of Greece's top travel destinations. The big draw is the medieval citadel in Rhodes Town: stroll along the battlements and you'll spy Byzantine churches, Roman ruins, synagogues, and minarets. 
In the maze of alleys, seek out Marco Polo, a 15th-century guest-house decorated like a pasha's harem, with an enchanting restaurant in the garden. In the secret rustic restaurant garden in the heart of the old town, we're hosting an intimate reception. The small garden is perfect for a symbolic ceremony as the 15th-century pasha's house lovingly recreates an Ottoman ambiance with verve and style. For the wedding in the heart of the Old Town, we're using the brightest of shades; lime and white for the charm, illuminating for the vibrancy, willow, and burnt coral for the contemporary feel! This year's couples will infuse fresh, nature-driven hues and unexpected palettes into their wedding decor and we're here for the jazz!
The pretty wedding details
 Marco Polo has an amazing garden this is why for a wedding there, we are getting inspired by all things garden-related. Lemon and citrus details will be used as an ode to the lemon trees that grow in the garden. What is so unique is that this little garden is inside the Old Town, inspiring all the details and the elements of the wedding day we're designing there. 
Couples going bigger this year, yet in smaller ways! To add to the wedding guest experience, we're curating a flower wreaths corner (the perfect quest experience in correlation to the aesthetics of the garden)  and gift boxes filled with local bits and bobs for the guests that are traveling from abroad.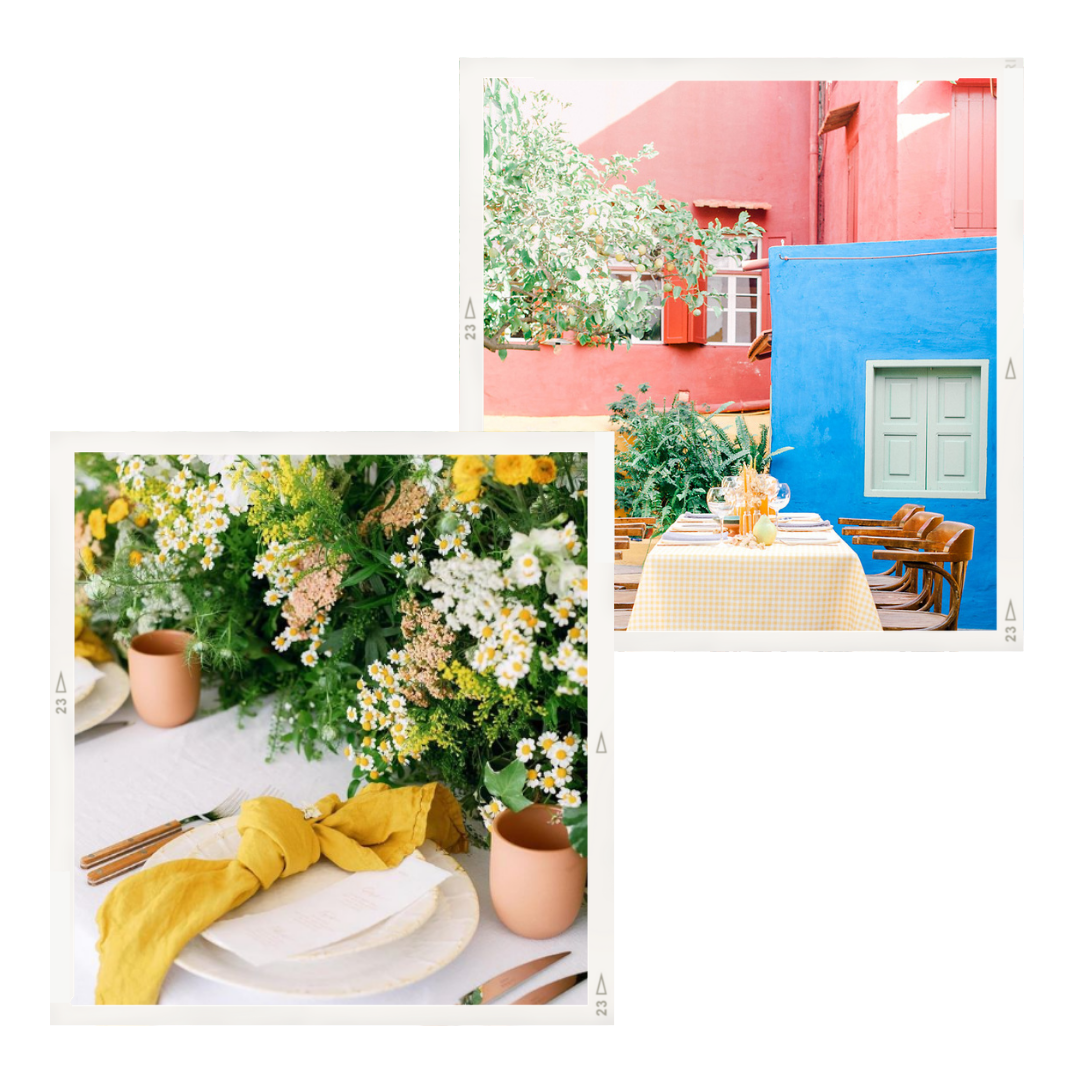 We're using local elements like sea sponge from the Dodecanese Islands, figs and summer fruits locally grown in Rhodes, honey, and other traditional and local goodies! Last but not least, let's not forget the traditional greek desserts station filled with local treats from Rhodes and the nearby islands!
Wedding Florals
As more outdoor weddings are taking place in 2021, we're using mood lighting to bring a romantic and airy ambiance to every occasion by hanging tea lights in all the trees and throwing bougainvillea flowers in the fountain of the garden for a laid back English garden style.  For the wedding flowers in the reception decor, we're focusing on garden-style florals with a modern twist, adding some white twist styled candlesticks (like the ones here), a trend quickly becoming one of the most prominent in the wedding market!
Destination Wedding in Sifnos
Peaceful and Serene tones
Sifnos for a wedding is like sunshine for summer. Sifnos has just the right balance of low-key luxury and unspoiled authenticity. It is the perfect wedding backdrop and we can't help but feel excited and count down the months until we're back on the wedding island! 
For our destination wedding in Sifnos, we're using a palette of calming white, sea salt, and jade green as well as peach dust for the contrast. These colors match the aesthetics of the island perfectly and they won't interfere with the minimal character of Sifnos.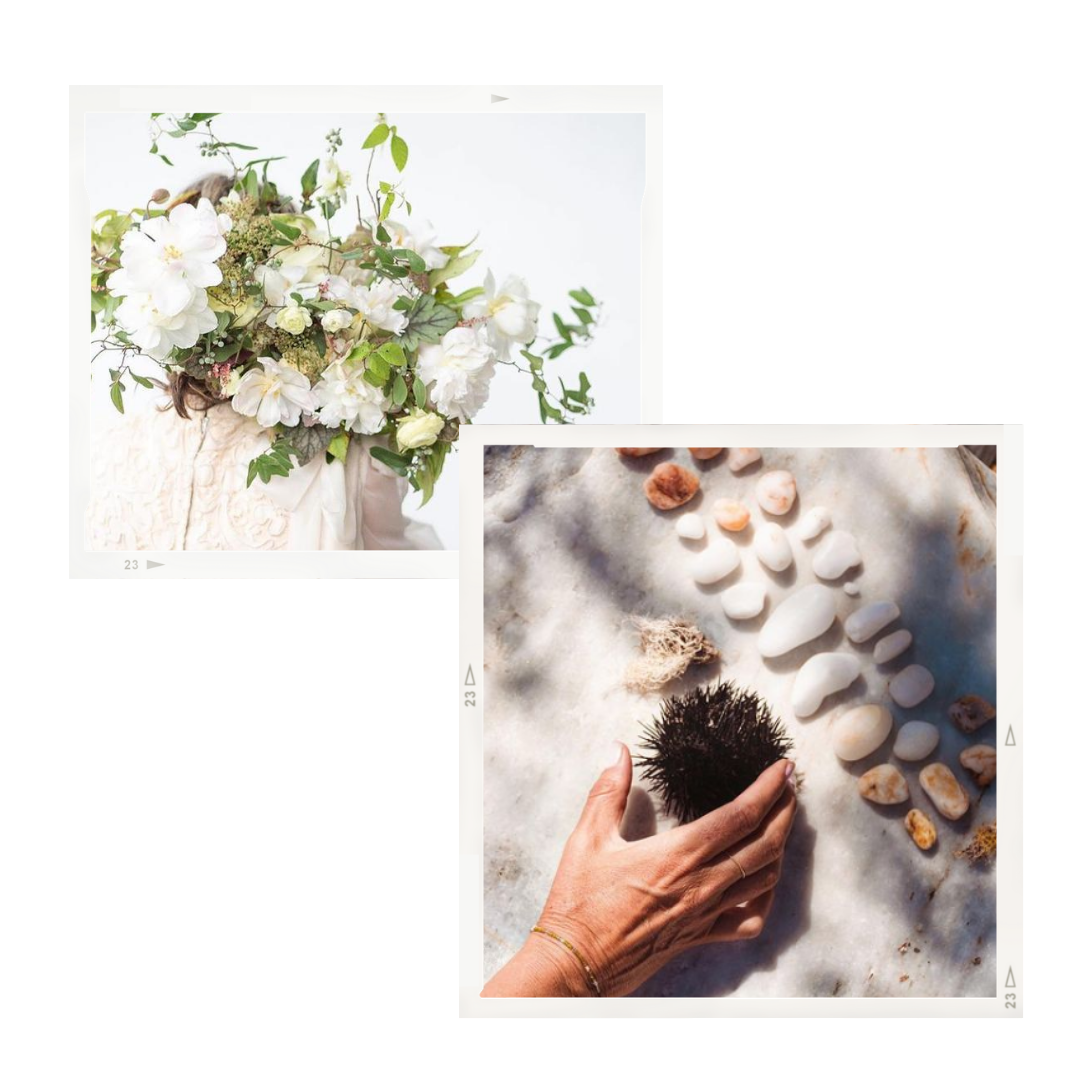 The pretty wedding details
 Sifnos has an astonishing long heritage of ceramics and clay culture. Since late summer and September is grape harvesting season, we will be using elements inspired by this, like wine grape leaves and vines, to give the feeling of a vineyard. We're bringing forward the luxury with elegant and romantic stationery with old-style handmade paper, as well as rice paper details! Wondering about the treats? Traditional almond sweets, of course, world-famous little white balls made of almonds!
Wedding Florals
 Sentimentality is far more important within the framework of what is the most beautiful flower of the moment; it's all about adding a sense of personal touch. This is why we're choosing romantic and ethereal florals in old gold vases from the flea market. A mixture of old and new, of past and present, of now and forever!
In total, 2021 weddings —reflective of more intimate affairs—are all about going deep into the details and accompanying experiences. We are getting inspired by the local elements of every destination, creating something modern in balance with tradition, with romantic or folk touches, depending on the style of every couple and how they dreamed their wedding day. We're using local and organic details, natural tones, and lots of texture. At the same time though, we're focusing on color and bright juxtapositions when they fit into the concept and the surroundings. The designs of 2021 will be rich in meaning and symbolism, as a reflection of the most intimate approach on wedding days that became apparent last year. All in all, this year's weddings are a spectrum of things;  rich, colorful, muted, quiet, strong, bright, serene, petite. More than ever, couples choose according to what they really want. There might be a smaller guest count, but the events are more intimate, meaningful, tailored just for those that matter the most!